Introduction to Chillon Castle
Chillon Castle – Switzerland's Lakeside Gem, and its Spellbinding Tales!
Nestled on the banks of Lake Geneva is one of Switzerland's most renowned castles; Chillon Castle. Spanning over 1000 years of history, this fortified structure has experienced power struggles, romantic escapades, and daring escapes.
From its inception as a Roman outpost to acting as a prison during the Reformation, Chillon Castle has been a witness to many defining events in Swiss history, providing visitors a glimpse into the country's past.
A unique feature is that it was not only a medieval fortress, but also a source of inspiration for Lord Byron's renowned poem 'The Prisoner of Chillon'. Tourists can see where the poet engraved his name on one of the columns while touring the castle.
Did you know Chillon Castle attracts over four hundred thousand visitors each year?
Ghosts of the past inhabit Chillon Castle, but don't worry – they're harmless…or so they say!
History of Chillon Castle
Chillon Castle: A Journey Through Centuries of Swiss History
Chillon Castle has been a witness to centuries of Swiss history dating back to the medieval era. This monumental structure, situated on the banks of Lake Geneva, has been a source of inspiration for authors, artists and historians alike.
Built in the 12th century, the castle saw several expansions and modifications over the years. During the rule of Bernese, it was converted into a state prison, where legendary prisoners such as François Bonivard, the Geneva patriot, were kept. The castle became a symbol of oppression and tyranny during the French Revolution and inspired the famous poem "The Prisoner of Chillon" by Lord Byron.
Today, the castle is a popular tourist destination and offers visitors a chance to discover its history through a vast collection of artifacts, exhibitions and guided tours. From the medieval courtyards to the Gothic underground vaults, the castle takes visitors on a journey through centuries of Swiss history.
Plan your visit to Chillon today and experience the magic of this lakeside jewel that has stood the test of time.
Building a castle on the lakeside may seem luxurious, but it's not all sunshine and rainbows when you accidentally drop a brick in the water.
Construction of the Castle
The Construction of the Fortress
In the 13th century, the Chillon Castle was carefully crafted into a magnificent fortress near Lake Leman (Lake Geneva). This beautiful edifice is an iconic symbol of the region of Switzerland. Here's a brief look at how it was created and erected.
Location & Design: Peter II of Savoy chose this spot along the eastern end of Lake Geneva's shore as a highly defendable and suitable location. Over different eras, architects restructured these fortifications by incorporating tactics from different time periods.
Excavating Existing Structures: To build the castle, it was necessary to excavate some structures that had been built before.
Lower Foundation: The foundation of the Chillon Castle extends low beneath Lake Geneva's surface at a concrete depth, made up of genuine stone slabs held in place with lead pipes.
Moving Upwards & Outwards: The fortifications and residential sections gradually rose from the lower part until they included recognisable areas like towers, gateways, courtyards and ramparts.
Ornamentation: Exterior decoration was added, followed by painting of inner walls and support columns.
The castle has additional ornamental designs, including decorated windows that let in enough light to the rooms, which, for their time, were quite spacious, giving a unique atmosphere.
You can visit The Chillon Fortress during weekdays all year round, except on Sundays when national or religious holidays are observed and access is restricted.
Come on a tour today! An amazing experience awaits you! Relive history within these walls before they close again for special commemorations! In the Middle Ages, the Chillon Castle served as a luxurious getaway for the affluent imprisoned by the Duke of Savoy.
Role of the Castle in the Middle Ages
Chillon Castle was a crucial point of control for medieval trade routes, and it guarded Geneva against intruders. By the lake, its imposing walls instilled fear in anyone who dared challenge it. Its strategic location, with mountains blocking land-side attacks, made it almost impenetrable.
As technologies advanced, Chillon Castle adapted. New walls were built with local materials to reinforce the fortress. Even though Geneva grew and roads moved the castle away from its strategic importance, it still stands today as a symbol of power and resistance.
Events such as music concerts, history talks, and explorations grant visitors a chance to experience life back in the middle ages. If you haven't been to Chillon Castle yet, don't miss out on this amazing opportunity. The stories untold within its walls won't last forever, so visit soon!
Famous Guests and Prisoners of Chillon Castle
Chillon Castle has a fascinating past. It was originally used as a garrison for Savoy rulers. Later, the castle was transformed into a prison for high-profile criminals.
Notable figures, such as François Bonivard and Lord Byron, were locked in the castle's dungeons. Royalty even resided in its luxurious chambers. Famous writers, Victor Hugo and Gustave Flaubert, were in awe of the castle's grandeur during their visits.
The castle holds significant importance to Swiss culture and is a must-visit for tourists seeking cultural enrichment. For an extra bit of history, visit the Chronicles Room to view the graffiti left behind by prisoners on the cell walls. You won't be disappointed! Even the dungeons are more stylish than my apartment!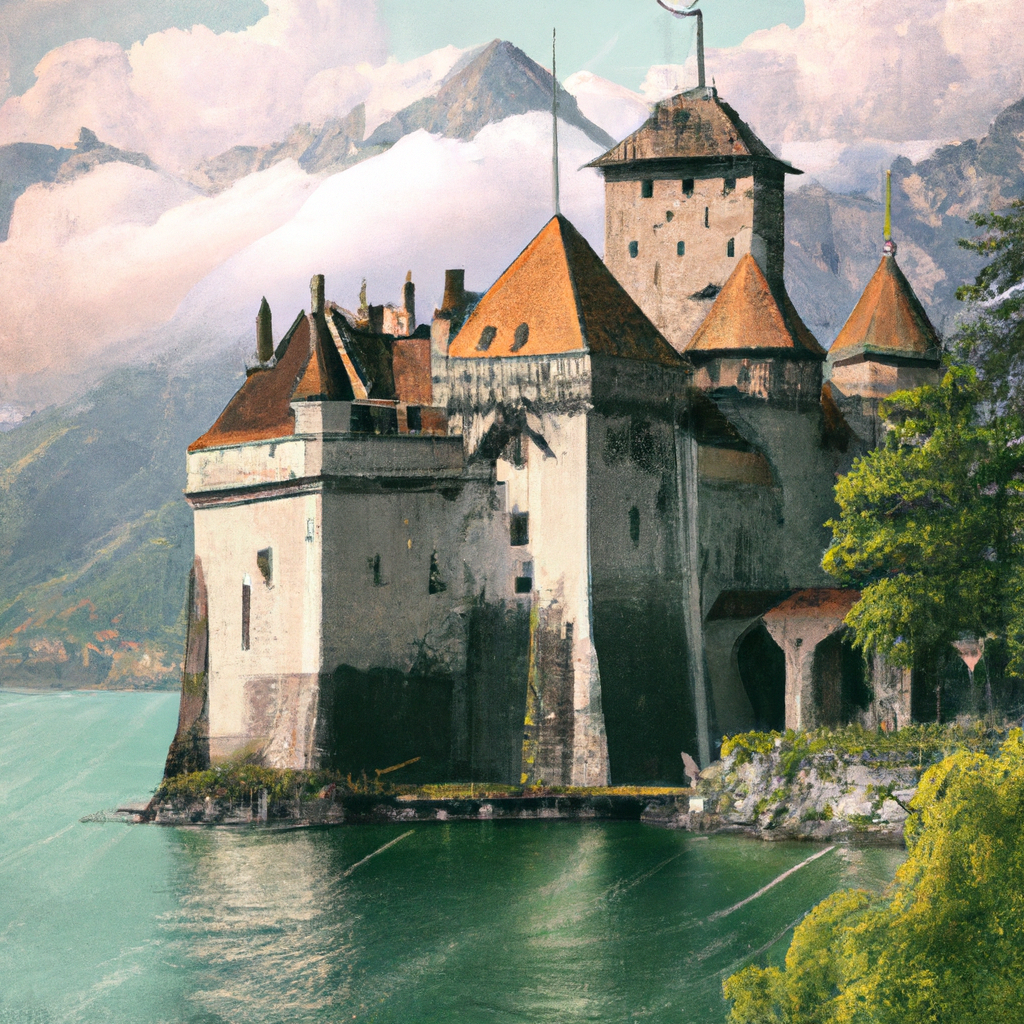 Architecture and Design of Chillon Castle
Chillon Castle's Magnificent and Intricate Architecture
Chillon Castle's splendid and elaborate architecture reflects its grandeur and rich history. The Castle's distinctive design is an intricate blend of several styles, predominantly Gothic with some Renaissance elements.
The Castle's main keep is a four-story cylindrical tower dating back to the 13th century. The towers and walls of the castle, along with their walkways and rooms, all illustrate a medieval-era fortification system.
The Castle's unique features, such as its elaborate woodwork and stone carvings, have been preserved with great care. The impressive courtyards, well-kept gardens, and stunning views over Lake Geneva all contribute to the Castle's charm and splendor.
Chillon Castle remains one of Switzerland's most prominent landmarks, attracting visitors from all over the world. Don't miss out on the opportunity to explore this incredible piece of history and its intriguing tales.
Who needs a moat when you have a courtyard this impressive?
The Courtyard
The Courtyard of Chillon Castle is a grand and reflective space of ancient cultural values. Ornamental designs from different eras adorn the arches, creating an intertwined heritage graph that narrates human civilizations.
Renaissance paintings and theatrical stage sets bring life to the dimly-lit space. These colorful images take visitors on a journey through mythologies and fairy tales. Though no visible traces remain of the actors, their legacy guides tourists through the castle's history.
The Courtyard offered military defense too. Inhabitants gathered here for food when under attack. It was accessible for delivering and transporting provisions. Today, it's a break spot for awe-struck tourists.
If these walls could talk, they'd probably ask for a renovation budget!
The Great Halls
The grand halls of Chillon Castle are a marvel. Spanning multiple floors, these chambers have changed purpose over the years. Fireplaces and carvings decorate the Hall of Justice and the Duke's Bedroom.
As you enter the Great Halls, you'll be amazed at their size and beauty. Frescoes showing scenes from history, plus chandeliers and ceilings, add to the charm. Tourists still flock to the Great Halls today.
One amazing fact is not widely known; these Chambers were used as soldier barracks in times of war. Chillon Castle was a fortress of defence during its time.
The Great Halls prove the opulence of medieval architecture, and how they were used in history. Even if you don't go to church, you'll be praising Chillon Castle's chapel.
The Chapel
The Chillon Castle's sacred area is grand and fitting of its surroundings. Ornate stained glass windows and intricate stone arches adorn the worship space. This was a significant place for nobles to observe religious events. Today, visitors can appreciate the architectural brilliance.
The Chapel was mainly used by the noble family that lived in the Castle during the medieval period. It has two parts: the main chapel, used for ceremonies, and a small niche for private meditation or prayer. Both sections have beautiful decorations, crafted skillfully by artisans of old.
Many artifacts in the Chapel have been preserved since the time of their creation. This gives us a peek into medieval life. For instance, a 15th century altarpiece depicting Christ's Passion and Resurrection can be seen. Additionally, relics of Saint Sixtus (from 1250) are also present.
Lord Byron visited the Chapel during his Swiss journey in 1816. If walls could talk, Chillon Castle's would have some juicy secrets!
Legends and Tales associated with Chillon Castle
Legends and anecdotes are a key part of the allure of Chillon Castle, Switzerland's picturesque fortress on Lake Geneva. The stories of ghosts, secret chambers, and historic escapes from Chillon have been passed down from generation to generation. Many tales center around Francois Bonivard, the brave defender of the castle who was imprisoned there during the early 16th century. Others revolve around the Duke of Savoy, a brutal ruler who once tortured prisoners in the castle. Still, many legends are too eerie and fascinating to share.
Chillon's mysterious dungeons once saw over 2,000 prisoners and one common tale is that of hidden passageways that allowed prisoners to escape. It is said that some prisoners even managed to escape by walking through the lake to the other side. Another legend involves the castle's resident ghost, the White Lady, who is rumored to appear to those who commit immoral deeds.
Nestled in the mountains, Chillon Castle presents visitors with a unique opportunity to experience the atmosphere of the past and participate in its rich history. One pro tip is to keep an eye out for little details that can reveal the castle's secrets such as for symbolic figures, religious imagery, and Latin inscriptions.
Why have a boring death when you can fall from a castle window and make history like Peter II, Count of Savoy?
The Death of Peter II, Count of Savoy
The Count of Savoy's untimely death is linked to Chillon Castle's legends. It is said that he was betrayed by his confidant and thrown into the dungeon. His remains were never found, and people believe his spirit still haunts there.
Legends suggest he was poisoned by his wife on his wedding day. Apart from these, Chillon Castle has a long history. It was used during the Roman era as a strategic location to control goods. Over the centuries, it became a fortress, palace and even a prison.
Bonivard, a Genevese monk, was imprisoned in Chillon Castle for several years. He wrote about his experiences in "Prisoner of Chillon," which was famous in Switzerland and Europe.
Chillon Castle continues to lure visitors from all over. They come to admire its medieval architecture and imagine themselves in one of its many tales. Why be a prisoner of love when you can be a prisoner of Chillon Castle like Bonivard?
The Story of Bonivard
On the banks of Lake Geneva is Chillon Castle. It's full of mysteries and legends! One is "The Imprisonment Of Bonivard". This is the story of Francois Bonivard. He was a brave political reformer who was locked in the dungeon of Chillon Castle for four long years.
Lord Byron wrote a poem named "The Prisoner Of Chillon" to show how hard Bonivard's life was. Even after his release, Bonivard stayed loyal to his beliefs and kept fighting for justice and freedom. His story has inspired people who want to stand against oppression.
Chillon offers more than the tale of Bonivard. You'll find other legends associated with this Swiss fortress. It has a centuries-old history that adds to its charm.
If you want to experience history, don't forget to visit Chillon Castle! The White Lady will come to you here.
The Legend of the White Lady
Folk tales tell of the White Lady's ghostly presence lingering in Chillon Castle. It is said she was the Duke Charles III's mistress, locked away in the dungeons. As she lay dying, her lover promised to free her, but never returned.
After her death, the Duke noticed unusual happenings in his chamber: apparitions in white and laughter ringing through the night. Some visitors have even seen a woman in white weeping by one of the windows.
For years, the White Lady's story has intrigued locals and tourists alike. Ghost hunters bravely search the castle's passages late at night, hoping to catch a glimpse or hear a whisper from the elusive phantom.
Experience a unique tour of Chillon Castle – step back in time and explore its eerie corridors.
Visiting Chillon Castle
Chillon Castle: Exploring the Lakeside Jewel of Switzerland
Nestled on the banks of Lake Geneva, Chillon Castle is a delight for history enthusiasts. This medieval fortress dates back to the 12th century and has seen many events throughout history.
The castle features picturesque views of the lake and surrounding mountains. Visitors can take a guided tour to explore the castle's walls, dungeons and other preserved historical landmarks.
One of the lesser-known features of the castle is its wine cellar, which houses some of the finest wines in the region.
Pro Tip: Arrive early to avoid the crowds and enjoy a more peaceful visit.
Overall, experiencing Chillon Castle is a must for anyone visiting the region and an unforgettable glimpse into Switzerland's rich cultural heritage.
Why rob a bank when you can enter the castle and feel like royalty for the price of a ticket? Check out the admission fees and opening hours of Chillon Castle, Switzerland's answer to your fairytale dreams.
Opening Hours and Admission Fees
Planning a visit to Chillon Castle? It's important to know their opening times and admission fees. Here's a table for your reference:
Season
Opening Hours
Admission Fees
November – March
9:30 am – 5 pm
(closed on Tuesdays)
Adults: CHF 12
Children (6-16 years): CHF 6
April – October
9 am – 7 pm
(open every day)
Adults: CHF 14
Children (6-16 years): CHF 7
Visit during Nov – March? Remember, it's closed on Tuesdays. April – October, though? Open every day! The admission fees may seem high, but worth it – you get to explore Swiss history, admire architecture and views. Plus, Chillon Castle dates back to 1150 AD! Aristocrats, prisons, and even inspiring Lord Byron. A guide can tell you all the murderous history.
Guided Tours
Discover Chillon Castle in an immersive way! Join one of the castle's educational experiences:
Go on a guided tour with an expert historian to uncover hidden corners.
Listen to informative presentations and exhibitions to learn about its history and architecture.
Explore the stunning gardens with a dedicated guide.
Experience medieval life firsthand with interactive workshops and demonstrations.
Get a customized tour to match your interests with private guides.
Note: the tours do require an extra fee. But visitors will gain valuable insight they can't get otherwise. Pro Tip: avoid long waits, book your tour in advance. Chillon Castle has events and exhibitions like a Renaissance fair!
Events and Exhibitions
At Chillon Castle, explore more than just the castle itself! Enjoy a plethora of attractions and events to make your visit extra-special. From medieval music concerts to gastronomic festivals and thematic exhibitions, there's something for everyone. Celebrate Swiss national day with a flag-raising event and be immersed in an awe-inspiring backdrop of Lake Geneva.
Don't forget to check the website for upcoming events and don't miss out on the chance to be part of something remarkable. Chillon Castle – where history and legend join together, leaving you entranced by medieval torture techniques.
Conclusion: Exploring the Rich History and Legends of Chillon Castle
Dive into Chillon Castle's history and legends. Find captivating tales in its ancient architecture. Discover how it became renowned for being an infamous prison. Uncover its historic and cultural significance. Plus, discover lesser-known legends that will surprise you.
Explore the castle's collections: weapons, furniture, artwork, all preserved in its interiors, with stories to tell.
Lastly, don't miss out on the charming views. Tour the beautiful vineyards to cap off your experience.
Frequently Asked Questions
1. What is Chillon Castle?
Chillon Castle is a medieval fortress located on the shores of Lake Geneva in Switzerland. It is famous for its stunning beauty and rich history that spans over 800 years.
2. When was Chillon Castle built?
Chillon Castle dates back to the 12th century when it was built by the Counts of Savoy, who were powerful rulers of the region at the time. It has since undergone several modifications and additions, but retains much of its original charm.
3. What are some of the fascinating tales associated with Chillon Castle?
One of the most famous tales associated with Chillon Castle is that of the legendary prisoner, Francois Bonivard, who was held captive in the castle's dungeons for six years. Other stories include its role in the Wars of Burgundy and the imprisonment of various political dissidents.
4. Can visitors explore the castle?
Yes, visitors can explore the castle and its various attractions, including the Noble Rooms, the weaponry displays, and the Chapel. Guided tours are also available for those who wish to learn more about the castle's history and architecture.
5. What is the best time to visit Chillon Castle?
Chillon Castle is open for visitors year-round, and the best time to visit depends on personal preferences. The castle is particularly beautiful during the summer months, but it can get crowded. The off-season months, such as April and November, offer a quieter and more relaxed visit but with slightly limited hours of operation.
6. How do I get to Chillon Castle?
Chillon Castle is located in the town of Veytaux, which is easily accessible by car, bus, or train. The castle is easily visible from the Lausanne-Montreux stretch of the A9 motorway. Buses run hourly from the Montreux train station, taking about 15 minutes. Those who love scenic outdoor hikes and trails could also take a path from Montreux along the lake to the castle which takes about an hour and a half.