East Coast Castles
To cover all the important castles in America's East Coast, you should start with the Biltmore Estate in North Carolina, Hearst Castle in California, and Boldt Castle in New York. These castles offer an array of historical significance, architectural wonder, and picturesque charm that make them worth exploring.
Biltmore Estate, North Carolina
Biltmore Estate is an iconic landmark nestled in Asheville, North Carolina. Built in the late 1800s, this symbol of American history covers over 8,000 acres, with an extravagant French Renaissance-inspired chateau at its center. It contains 250 rooms, including 35 bedrooms.
The chateau is surrounded by gardens and parkland, while its interior showcases intricate designs crafted by world-renowned artisans. Visitors can explore the estate on a self-guided tour, visit the winery, or explore outdoor activities such as horseback riding and hiking.
Every season, Biltmore Estate offers entertainment options for its guests. During winter, they witness around 55 Christmas trees throughout the home. During summer, they can listen to musical performances at Biltmore's Summer Concert Series.
If you are staying longer than one day or want to savor delicious cuisine, there are plenty of on-site dining options from grab-and-go cafes to formal fine dining at Antler Hill Village & Winery. Each experience takes you back to a time of exceptionalism!
Hearst Castle proves that medieval vibes can be found in sunny California too!
Hearst Castle, California
La Cuesta Encantada is a magnificent example of American architecture. It's perched atop rolling hills on California's central coast. Constructed between 1919 and 1947, it was the home of newspaper mogul William Randolph Hearst. It has 165 rooms, such as suites, guest cottages, libraries, pools, gardens and a zoo.
The Hearst Castle was a playground for Hollywood stars in Hearst's time. Nowadays, visitors can tour this opulent estate and discover its past. It's a huge 127 acres and features styles like Spanish Colonial Revival, Mediterranean and Gothic Revival. Julia Morgan was the architect, and every element from floor to ceiling has been crafted with care.
Fun Fact: The Hearst Castle was donated to California in 1957 and turned into a museum.
Boldt Castle, New York
Situated on Heart Island in the Thousand Islands region of New York, this stunning castle was built by millionaire George Boldt. The Boldt Castle, New York features a unique mix of medieval and Renaissance architecture. It has a six-story main house, a powerhouse, a drawbridge, and ornamental gardens. Grand staircases of stone and marble, stained-glass dome ceilings, and Greek columns decorate the lavish interiors. Construction began in 1900 but was halted after Boldt's wife's death in 1904. The castle remained unfinished for over seven decades until it was restored in the '70s.
The Boldt Castle served as a summer residence for the Boldts and has welcomed distinguished guests like author Helen Keller and US President Franklin D Roosevelt. Visitors can tour the palace's many chambers with artwork and early 16th century furniture.
George Boldt also commissioned Francis Julius Ratti to design a village with worker housing on nearby Wellesley Island. Despite financial setbacks during World War I, nearly thirty structures were completed. If you're looking for an East Coast castle, this one has survived hurricanes, pirates, and probably a few ghost sightings too!
West Coast Castles
To discover the mystical West Coast Castles, feast your eyes on picturesque buildings that belonged in fairy tales. Glen Eyrie Castle, Colorado, Castello di Amorosa, California, and Bishop Castle, Colorado are the perfect masterpieces waiting for you. Each of these castles portrays its unique story and exceptional beauty, which will leave you in awe.
Glen Eyrie Castle, Colorado
Glen Eyrie Castle stands in the heart of Colorado Springs. Its stone walls and turrets make it a majestic sight. It was once the private home of General William Jackson Palmer. Now, it's a hotel and conference center with over 100 rooms, each furnished with antiques and modern amenities.
The castle offers activities such as hiking, horseback riding and fly fishing. There's a tour of the castle, too. Plus, a popular tea service with delicious pastries and brew.
Trivia fans may like to know that a famous Hollywood actor once stayed here during filming. And, the castle has appeared in many TV shows and films.
Pro Tip: Don't miss the picturesque views from Queen's Canyon, or fly fishing spots at Cheyenne Creek.
Castello di Amorosa, California
Constructed in the 13th century, this California based castle is unlike any other. Tuscan-style architecture and Italian art adorn the immense stone walls – welcome to Castello di Amorosa! Spread across 107 acres of vineyard, this castle offers a dungeon, chapel with artifacts from the 1700s and wine cellars with antique barrels.
Unique interior rooms feature murals depicting stories from Dante Alighieri's Divine Comedy. Wine enthusiasts can enjoy tastings, tours of medieval wine-making equipment and an immersive ambiance.
This one-of-a-kind West Coast castle offers an interesting range of tours and tastings for those that appreciate history and fine wine. Plan your trip to Castello di Amorosa today – don't miss out! Alternatively, why not venture to Bishop Castle for a touch of danger – just make sure you're not afraid of heights or fire-breathing dragons!
Bishop Castle, Colorado
Are you ready for a crazy castle experience? Bishop Castle is located in the Colorado mountains, with intricate carvings & a sky-high tower that overlooks the countryside. This one-of-a-kind structure was made by Jim Bishop over 40 years.
Visitors can explore its detailed architecture & whimsical decor. Jim had a vision to inspire future generations. The castle's tower is 160ft tall, with stairs that wind up to the top and provide stunning views.
Jim built Bishop Castle with no permits or plans. He crafted it with hand-ironwork & beautiful stained glass windows. Thousands of visitors come every year to experience Jim's dream. So why settle for a white picket fence when you can have a castle with a moat filled with corn?!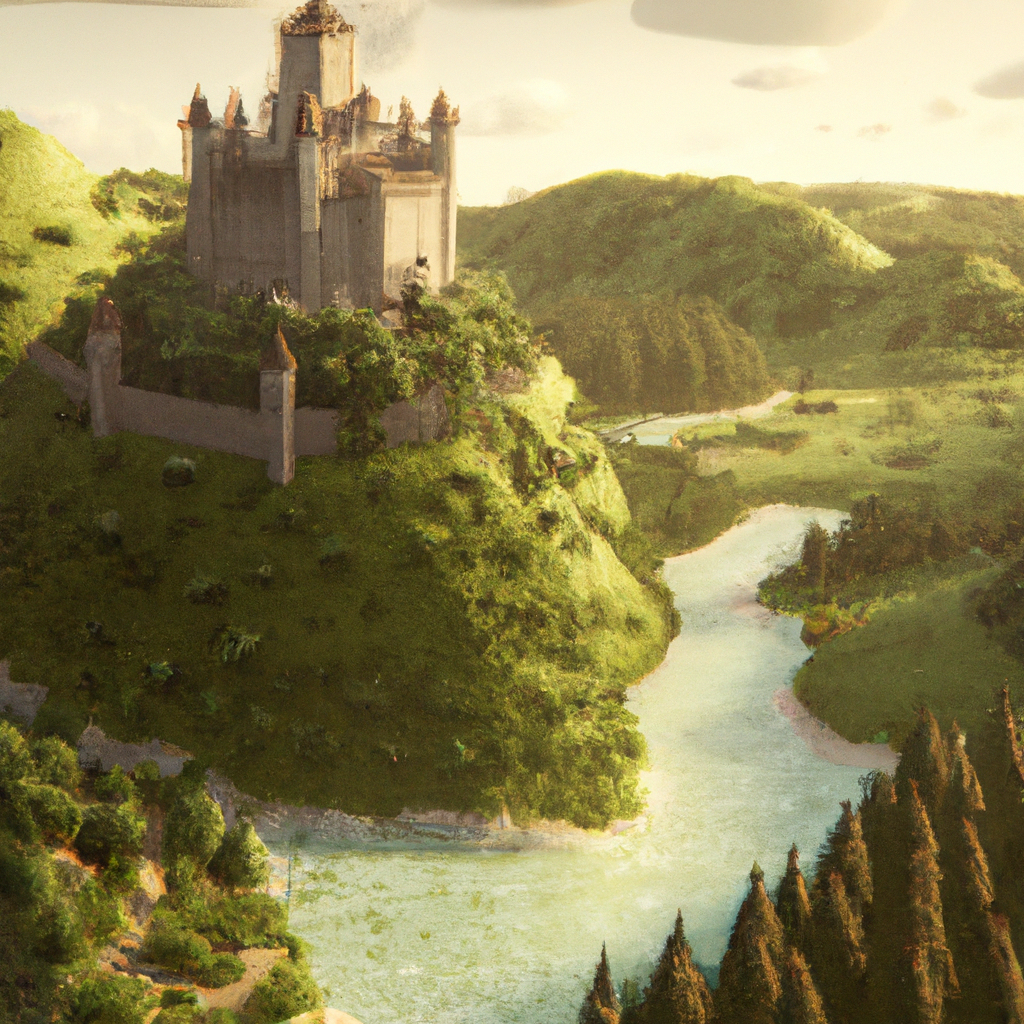 Mid-West Castles
To discover majestic and historical castles in the Mid-West of America, turn to this section of the guide. Learn about Fonthill Castle in Pennsylvania, Oheka Castle in New York, and Stan Hywet Hall and Gardens in Ohio. Each of these sub-sections reveals the unique features and stories behind these iconic Mid-Western castles.
Fonthill Castle, Pennsylvania
This majestic castle, situated in Pennsylvania, showcases Gothic architecture. Its doorways are high and its stonework, intricate. It stands as a reminder of the excellent craftsmanship of its time. Henry Chapman Mercer constructed it to house his large and unique collection of art and artifacts.
The interior of Fonthill Castle is just as beautiful as the exterior. Each room has its own decor and style, giving visitors a glimpse into Mercer's life. Furthermore, archives of important documents are stored in the castle.
It's remarkable that Mercer designed the castle himself instead of an architect. His passion for collecting, as well as his eclectic tastes, explains the diverse influences in its design. It's alluring with its turrets, courtyards and alcoves.
Mercer passed away in 1930, without any heirs. He left his beloved castle behind as part of a foundation he founded. It's meant to preserve his art collection and archives. To this day, visitors come to admire the beauty of Fonthill Castle and Mercer's determination to create something so extraordinary in America's heartland.
Oheka Castle, New York
Oheka Castle, in Huntington on Long Island's North Shore, is a grand chateau constructed by millionaire Otto Hermann Kahn in 1919. It boasts 127 acres of picturesque gardens and rolling lawns – an ideal spot for weddings and events.
This European-style castle is famed for its luxurious architecture and decor. It has served as the backdrop for many films, such as Citizen Kane, Great Gatsby and Cruel Intentions.
Visitors can enjoy wine tastings and high tea while admiring the castle's elegant decorations. But book soon – you'll get the best rates during peak wedding seasons.
Stan Hywet Hall and Gardens, Ohio
Stan Hywet Hall and Gardens: a magnificent, historic estate tucked away in the suburbs of Ohio. This rural retreat with its extensive gardens, impressive architecture and rich history draws visitors from far and wide.
Built between 1912-1915 on 70 acres of former farmland, this Gothic Revival-style manor house boasts 64 rooms adorned with elegant furnishings, artworks and artifacts. Five buildings make up the property – The Manor House, The Carriage House, The Gate Lodge, The Music Room and The Corbin Conservatory.
Its expansive 3-acre garden is home to many flowers such as peonies, daffodils, magnolias and roses. Take a leisurely walk through the Japanese Garden or experience the seasonal blooms in all their glory.
In 1929, a rare performance by George Gershwin himself was held in The Great Hall. Thousands gathered at Stan Hywet Hall to hear him play his famous piano concerto.
Stan Hywet Hall is a must-see attraction for anyone visiting Ohio. Step through these doors and get a fascinating glimpse into an amazing epoch in American architecture. If Mid-West castles are not your thing, head south where the castles are as majestic as their drawbridges are rusty.
South Castles
To explore the South Castles region in the 'From Coast to Coast: A Comprehensive Guide to Castles in America', delve into the history and architectural wonders of Chateau Laroche in Ohio, Lyndhurst Mansion in New York, and Castillo de San Marcos in Florida.
Chateau Laroche, Ohio
Nestled in Ohio, this remarkable chateau is truly a sight to behold. Built with Swiss architectural influences, it pre-dates World War I. This grand structure was constructed by an eccentric philanthropist who wanted to create something grand.
This castle boasts 8 floors and many towers, turrets and battlements – an impressive feat of stone-masonry! Its walls are adorned with centuries-old artworks like stained-glass windows. The interior houses rare collections of armours, weaponry and medieval furniture.
Chateau Laroche has become an important landmark for tourism enthusiasts. Trails surround the castle and lead to picturesque locations and small cafes with delicious food.
An adventure awaits! Immerse yourself in an era long forgotten at Chateau Laroche. Don't miss out – go and explore its fascinating history!
Lyndhurst Mansion, New York
Tucked away in the Hudson Valley lies a grand mansion, reminding us of America's gilded age. Lyndhurst Estate possesses Gothic architecture and gorgeous gardens! Inside, visitors can view an impressive collection of art and furniture, crafted by the likes of Louis Comfort Tiffany and Herter Brothers.
Stroll through the estate's rooms and you'll be teleported to a world of opulence and extravagance. Look up at the grand hall's soaring ceiling with its magnificent stained glass window! The dining room has intricate wood carvings adorning the walls and ceiling – crafted by artisans from around the globe.
Lyndhurst Estate is a popular spot for movie filming. Specter and Cruel Intentions are just a few of the movies which have been shot here. Every angle makes for a picture-perfect backdrop!
Book your tour today and experience one of America's most historic homes. Don't miss out!
Castillo de San Marcos, Florida
St. Mark's ancient stronghold in Florida, known as Castillo de San Marcos, is a symbol of Spanish colonialism in the New World. It was built in 1672 with coquina stones from the Caribbean, oyster shells and water from Matanzas Bay. It defended Britain's attacks through history. Its military architecture and design from that period are still preserved at this national monument, and tourists come to see it from all around the world.
UNESCO recognizes it as part of their Colonial Spanish Heritage Sites in America.
Fun fact: Benjamin Butler's sound cannons during a war with South Carolina made every glass window in St. Augustine shake! (Source: National Park Service)
Go visit the castle for a royal experience – just don't break anything or else you'll have to pawn your crown to pay for damages!
Castle Tours
To plan your ultimate castle tour, take a road trip for East Coast Castles, West Coast Castle Tour, Explore the Mid-West Castles, and Discover South Castles. Each sub-section offers unique experiences and stunning architectural wonders that are worth adding to your itinerary.
Road trip for East Coast Castles
Discover Majestic Castles of the East Coast!
Take a magical journey through the East Coast's regal past. With a road trip, explore some of the grandest castles. Witness the beauty of these architectural marvels and feel the charm of bygone eras!
See Boldt Castle on Heart Island. Enjoy its magnificent gardens and architecture.
Visit Biltmore Estate; a 19th century mansion with 178,926 square feet of antiques, art, and more!
Explore Monticello; a UNESCO World Heritage Site designed by Thomas Jefferson. Marvel at the views of rolling hills.
Uncover Hidden Gems!
Apart from famous castles, you can find lesser-known gems. Research to find hidden castle wonders.
Unravel History:
Castles have shaped history. They served as defense during wars and seats of power for rulers. Today, see these historical gifts preserved as cultural heritage.
Go on the West Coast Castle Tour for a thrilling history and mystery!
West Coast Castle Tour
Discover the magical medieval fortresses with our West Coast Castle Tour! Travel back in time and witness their captivating architecture, remarkable history and mysterious mythologies.
You'll get to explore diverse, enchanting locations with magnificent views of the landscape and oceans. Our knowledgeable tour operators will narrate stories that are not found in history books.
Savor local specialty meals and beverages while engaging in immersive experiences such as sword fighting and archery lessons. Unleash your inner adventurer on hiking expeditions, beach walks or nature trails.
Photography enthusiasts will have plenty of opportunities to capture astonishing views. And you might even find a hidden chamber with sketches of ancient tribes containing supernatural powers!
So come along and join us on this spectacular West Coast Castle Tour for an unforgettable experience!
Explore the Mid-West Castles
Explore the captivating castles of the Mid-West! From ancient architecture to bewitching tales, each castle has something special to offer. Guests can opt for a self-guided tour or join a group and experience the full magic.
The views are breathtaking and you can learn about the history that happened within these walls. Rumor has it that some castles are haunted – so why not take part in a spine-tingling adventure? Expert storytellers at select locations can share local legends. Plus, enjoy medieval-themed events throughout the year.
Do your research and uncover hidden gems. Every castle has its own quirks and secrets – you never know what you'll find. Plan ahead and consider the season, ticket prices, and amenities. Wear comfortable shoes, and bring any necessary gear for outdoor activities.
So why not take a journey and explore the beauty of South Castles? No need for a time machine – just stone walls and a moat!
Discover South Castles.
Journey through time with our Castle Tours! Uncover centuries of history, culture, and art in the South. Delve into majestic castles, including architectural masterpieces and historic sites.
Explore exquisite gardens, elegant bridges, and intricate carvings. Admire dazzling staterooms and furniture, tapestries, sculptures, and paintings. Unravel secrets hidden behind ancient walls. Become part of legendary stories.
Embark on a captivating voyage! Take a medieval map and a flask of mead – you never know when you might need them! Enjoy an unforgettable experience as you immerse yourself in the lifestyle and legacy of past noble residents.
Planning a Castle Visit
To plan an unforgettable castle visit with ease, follow these tips for [section] "Planning a Castle Visit" with focused attention on [sub-sections] "Castle Etiquette, Best time to visit, and Transportation". Be respectful of castle etiquette to fully immerse yourself in the experience, plan your visit during the optimal time for the castle's atmosphere, and determine your transportation method in advance for seamless travel.
Castle Etiquette
Visiting a castle? Essential to remember certain cultural norms and behavioral standards. Respect historical artifacts and structures. Don't touch the antiques. Keep noise levels low.
Dress appropriately. Cover bare shoulders and knees if needed. Ask for permission before taking photos/videos. Eat and drink only in designated areas. Stick to designated pathways.
Know the background of the castle. Respect other visitors' space—allow them to explore too. Pro Tip: Carry weather-appropriate clothing. Some castles have outdoor walkways/patios that can be affected by weather. Who needs summer when you can visit a castle in the winter and feel like royalty?
Best time to visit
The best time to visit a castle is usually the off-season, when there are fewer people around. Weekdays are better than weekends, as the crowds are smaller and there's more space to explore.
As peak season approaches, the number of visitors increases. This can lead to long queues, limited parking, and high entrance fees. Plan ahead and book tickets online to avoid any stress.
Some castles may offer night tours in summer or special activities for kids during holidays. Check individual castle websites before booking tickets, to ensure you don't miss out on anything.
My friends and I visited Chateau de Versailles one summer afternoon. We were amazed by the beautiful architecture and the French history in every stone and chandelier. We arrived early, so we didn't have to wait in long queues. And, trust me, finding a parking spot at a castle is no easy task!
Transportation
Heading to the Castle? Here's all you need to know:
By Car: Parking on-site is available. Follow signs to the designated parking areas.
Public Transportation: The closest train station is 5 miles away. A shuttle bus takes visitors from the station to the castle.
Bicycle: Rentals are available at the car park near the entrance.
Taxi: Easily hired in the nearby town – directly to the castle entrance.
Uber/Lyft: Ride-share services available here for a cost-effective option.
Walking: Pedestrian pathways lead up to the castle.
Remember to book your transportation early! Also check the weather forecast, as buses and bike rentals can be affected by rain or snow. Pack your essentials, plan ahead and don't miss out on this breathtaking architectural wonder. Sadly, no prince or dragon visits are guaranteed!
Conclusion
We end this guide to castles in America, revealing they are more than just remnants of the past. From east to west coast, each castle has a unique story to tell. Some are transformed into hotels or museums, while others remain private residences.
American castles have been inspired by European ones, mirroring the Gilded Age's obsession with regality. Notable examples include Hearst Castle and Biltmore Estate. This type of structure has even impacted pop culture, showing its appeal.
Unfortunately, many castles lay neglected and in disrepair – before being restored. Hammond Castle in Massachusetts is one example; after years of vacancy, it was bought by John Hays Hammond Jr., and became a museum for medieval artifacts and his inventions.
Castles in America are more than just structures. They take us on a journey through time, educating us on the country's past and architectural accomplishments. Visiting them is a must-do experience for anyone curious about America's history.
Frequently Asked Questions
Q: How many castles are there in America?
A: There are currently over 130 castles in America, ranging from small replicas to grand estate homes.
Q: Are all of the castles open to the public?
A: No, not all castles are open to the public. It is important to research each castle before visiting to see if it is open for tours or visitation.
Q: Can you stay overnight in any of the castles?
A: Yes, there are some castles that have been converted into hotels or bed and breakfasts that allow guests to stay overnight.
Q: Are there any famous castles in America?
A: Yes, there are several well-known castles in America such as the Biltmore Estate in Asheville, North Carolina and Hearst Castle in San Simeon, California.
Q: What is the oldest castle in America?
A: The oldest castle in America is the Castillo de San Marcos in St. Augustine, Florida, which was completed in 1695.
Q: Are there any haunted castles in America?
A: Yes, there are several castles in America that are rumored to be haunted such as the Winchester Mystery House in San Jose, California and Boldt Castle in Alexandria Bay, New York.