Introduction to Kilkenny Castle
Kilkenny Castle – Medieval Marvel!
Glimpse Ireland's past at Kilkenny Castle. This grand castle stands proudly in the city's center, a symbol of Norman architecture.
Families such as Butler and Fitzpatrick have graced this castle. It's been skillfully preserved for nearly 800 years, making it one of Ireland's most sought-after tourist attractions.
At Kilkenny Castle, visitors can wander around and explore its gorgeous gardens, chambers, and towers. There are also exquisite tapestries and ancient artifacts to appreciate.
The Normans beat back Gaelic tribes in 1195, claiming this land as their own.
Kilkenny Castle offers an exciting journey into Ireland's history. It's experienced battles, sieges, and even witch hunts, making it a freaky yet fascinating place!
History of Kilkenny Castle
Kilkenny Castle is a glimpse into Ireland's medieval glory. It was built in the 12th century and has been home to many famous families. The castle displays artwork, craftsmanship, and gardens.
It was a Norman symbol of power in the Middle Ages. Later owners added to the grounds. The 19th century architecture is ornate gothic revival. Kilkenny Castle has been a prison, military barracks, seat of local government, and a private residence.
Visitors come for the cultural heritage and natural beauty. The parkland is over 50 acres with rose gardens and ornamental lakes. There's also weaponry from when the castle served as a military base.
Fun Fact: Arthur Butler-Marquis of Ormonde- entrusted it to the Irish government for just £2 in 1967! Kilkenny Castle has a layered cake of styles from each century.
Architecture of Kilkenny Castle
Kilkenny Castle's Magnificent Medieval Architecture
The medieval architecture of Kilkenny Castle showcases the grandeur of Gothic Revival style. The castle's intricate details, unique arched ceilings, and grand towers are a testament to the skilled craftsmanship of the era.
The towering presence of the castle's turrets alongside the intricate stonework of the exterior and the lavish interiors such as the Staircase Hall, Drawing Room, and Long Gallery, all speak volumes about the enviable architecture of the castle.
Apart from the impressive architectural structures, the castle's stunning gardens and panoramic views of the city are an added bonus, creating a complete sensory experience for every visitor.
To enhance your visit, it is recommended to take a guided tour to learn about the castle's remarkable history, its inhabitants, and the architectural innovations that make it a captivating sight. Additionally, exploring the grounds and gardens on a leisurely stroll gives visitors a chance to marvel at the castle and its intricate details from different angles.
PS: The castle's design features may have been medieval, but the WiFi connection is surprisingly modern.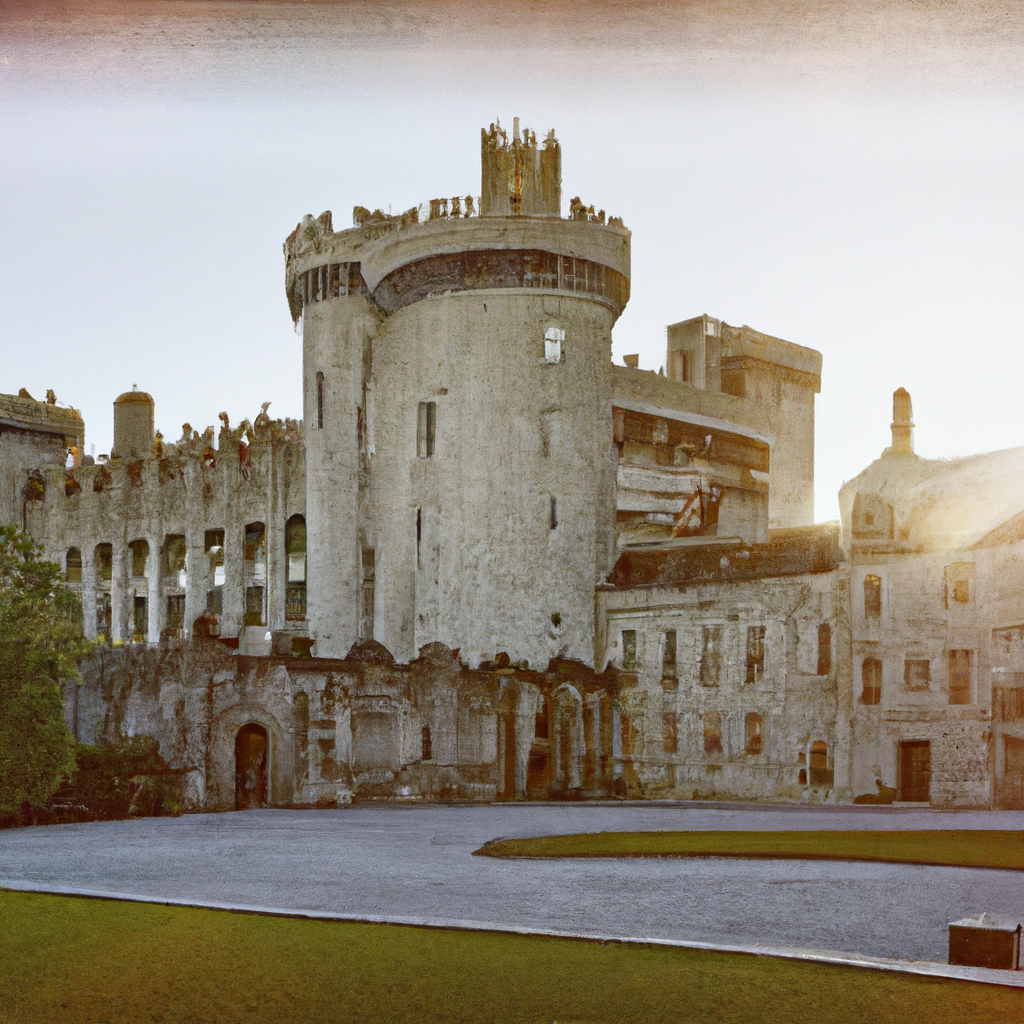 Design features of the castle
Kilkenny Castle boasts an impressive architectural design. Unique elements draw the minds of its designers. Its imposing silhouette captures attention from a distance. Intricate stucco work, reliefs, and carvings adorn interior walls. Conical-roofed towers offer sweeping views of landscapes. Stone vaulted ceilings and grand fireplaces decorate significant rooms like the banquet hall. Idyllic fountains in sprawling gardens redefine the medieval landscape. Current restoration efforts preserve or change elements while maintaining historical significance.
Kilkenny Castle dates back to 1195 when it was built for defence. In 1391, King Richard II granted authority to extend the structure – adding chambers, halls, and fortifications. It served as a residence for many families and is now open to visitors. Step inside and you'll see why it's known as a 'medieval masterpiece'. Don't get lost in its grandeur!
Interior of the castle
Kilkenny Castle's interior is a captivating mix of architectural styles and decorative art from multiple centuries. High ceilings, beautiful plasterwork and grand staircases are complemented by delicate frescoes. Inlaid woodwork and opulent tapestries abound. The many chambers and halls go from the medieval keep's austere spaces to the lavish 19th-century reception rooms added during renovations. The interiors show the tastes and life of the many owners who lived in the castle over the years.
Highlighting the castle is the Long Gallery, with its impressive 30 meter oak-panelled walls. The exquisite Chinese Room is another remarkable piece, with its hand-painted silk wallpaper depicting Chinese landscapes.
The first floor's Drawing Room also stands out. It's said Queen Victoria drew here during her Kilkenny visit in 1849. Now, this room is adorned with Colonel William B Butler's portraits.
In 1830, workers uncovered a paneled room behind Lady Desart's bedroom wall. To their surprise, they found it was one of Queen Marie Antoinette's apartments from the Petit Trianon Palace at Versailles. This room is now displayed at Newbridge Silverware Museum near Dublin.
Sadly, some details about the castle's Interior have been lost due to civil war damage. But, there are ongoing efforts to restore its original glory for future generations. No matter how dull the garden, Kilkenny Castle is still everyone's envy.
Gardens and Grounds of Kilkenny Castle
Kilkenny Castle's Exquisite Landscape
The stunning landscape of Kilkenny Castle includes a sprawling garden and a sprawling 50-acre parkland. The gardens feature beautiful luscious greens and vibrant flowers, while the magnificent parkland is perfect for nature lovers to explore. The estate's enchanting landscape provides an invigorating and refreshing experience, captivating and delightful in equal measure for visitors.
The parkland is the perfect destination for picnics, strolls, and outdoor activities, and there are several trails for those looking to explore the area. A highlight of the grounds is the serene Rose Garden, a haven for flower enthusiasts that showcases an impressive array of fragrant blooms. Another must-see is the formal Victorian-style terraced garden, which exudes a unique charm.
Displayed within the castle itself, is the Butler Art Gallery, which exhibits an extensive collection of contemporary art, with a focus on Irish artists. A must-visit for art lovers, this gallery features exclusive exhibitions that continue throughout the year.
Intriguingly, the castle has a rare prehistoric wall visible within the imposing structure. This wall, known as the Aghadoe Wall, dates back over 4000 years and displays the cultural heritage of the Kilkenny County.
(Source: Kilkenny Castle)
"If roses could talk, they would brag about being featured in Kilkenny Castle's beautiful rose garden."
Rose Garden
The Rose Garden, located in the southeastern area of Kilkenny Castle's Grounds, is a sight to behold. Its ~800 square meters are home to 35 varieties of roses, and it dates back to the early 20th century. Unlike many other gardens, these roses have grown with abandon, forming beautiful clusters that provide an organic, natural setting.
This garden was originally maintained by a dedicated team of castle staff, who took great pride in their work. Their efforts paid off when the garden became a favorite spot for visiting dignitaries and guests alike. Today, it still captures hearts with its fragrant aura, grace, and timeless elegance. Why not take a walk through the parkland and woodlands of Kilkenny Castle and explore the Rose Garden for yourself?
Parkland and Woodlands
Kilkenny Castle's surrounding area is a visual delight for visitors! From its vibrant Parklands and ornate Gardens to its dense Woodlands, there's much to explore. Take a walk through the estate's trails for a glimpse of the castle's architectural styles, like the opulent rose garden and formal garden borders.
Explore the Arboretum or relax at a picnic area. Don't miss strolling along the serene tree-lined "Long Walk" leading up to Kilkenny Castle's main entrance. Get your cardio in while admiring the beautiful scenery at Kilkenny Castle Parkrun – just don't trip over any royally manicured hedges!
Kilkenny Castle Parkrun
Kilkenny Castle's lush gardens and grounds offer a great opportunity to exercise while taking in nature's beauty.
The Castle Parkrun has become popular with locals and visitors alike. It's a flat course that takes runners through manicured lawns, mature trees, flower beds, and across bridges along the River Nore. Don't forget to look out for historical features like 18th-century follies and yew hedges!
Afterwards, why not enjoy a picnic in one of the park's scenic spots? Or, explore more of Kilkenny's history with a tour of the castle or a café like Cafe Sol or The Parade Tower Tea Rooms. Ready to have some fun? Kilkenny Castle awaits your arrival!
Events and Activities at Kilkenny Castle
Kilkenny Castle: Available Events and Excursions
Experience the many things to do at Kilkenny Castle beyond tours and sightseeing. From exhibitions to outdoor concerts, Kilkenny Castle hosts a variety of activities that cater to people of all ages.
Attend exhibitions that feature collections of art and crafts from various artists and organizations.
Take part in workshops and classes that teach crafts, music, dance, and other skills.
Join a full-day excursion to the nearby Castlecomer Discovery Park, where you can ride zip lines, go fishing, and hike.
Enjoy outdoor concerts during the summer months in the picturesque Castle Park.
Participate in the annual Kilkenny Arts Festival that features music, theater performances, and visual arts exhibitions.
Attend historical reenactments and storytelling events that take place throughout the year.
Additionally, you can even channel your inner creativity by joining calligraphy classes or learn to make traditional lace. These programs and activities provide a unique and authentic experience of Irish culture.
Did you know that Kilkenny Castle was once the medieval residence of the powerful Butler family? Join a guided tour of Kilkenny Castle and learn about the fascinating history, or just pretend to be a bored ghost so the guide thinks they're doing a great job.
Guided Tours
Within Kilkenny Castle's walls lies a history-filled journey for those seeking to learn more. Tours are available throughout the day to take guests on an adventure through 800 years of culture. Winding through chambers, grand halls, and lavish bedrooms, visitors can feel the energy of centuries gone by.
Guides offer insight into the people who lived in these walls and share stories that bring the castle's history to life. Restored rooms brim with beauty, from art to architecture, giving guests a high-end experience. The tour is available in several languages, making it accessible to diverse visitors.
Visitors can opt for paid experiences, such as audio guides, which provide insight into the castle's hidden nooks. While the guided tours are thrilling, exploring the castle at your own pace is highly recommended. Artifacts on display, garden paths, and exhibitions offer a unique perspective.
Recently, a group of historians took a guided tour. They were amazed when they entered a room of tapestries woven over thirteen hundred years ago. The knowledgeable guide offered new insights into their cultural heritage, leaving them in awe. Step into the past at Kilkenny Castle – just don't disturb the ghosts!
Exhibitions and Events
Kilkenny Castle is a symbol of Irish heritage, with a long history. Enjoy cultural activities and events on the castle's grounds.
Uncover exhibits of Ireland's history and art.
Listen to live music and performances.
Take guided tours of the castle and museum.
Plus, explore the castle's gardens and café. Plus, Kilkenny Castle is full of luxurious interiors from centuries ago. There's even a room with red velvet furniture and walls of crimson silk! Explore the art collection for a magical experience. Impress your friends with the high culture of Kilkenny Castle!
Art and Culture
Kilkenny Castle is an ideal place to explore Art and Culture. It's a superb source of artistic and cultural heritage. With scheduled events and activities, you can have an immersive learning experience. From exhibitions to performances, concerts to plays – it has it all!
You can also attend special events, featuring Ireland's most talented musicians, in the Castle courtyard. If theatre is your thing, you won't want to miss their plays in the amazing castle auditorium. Plus, the annual Autumn art show is something to look forward to.
William Wyllie paintings were also displayed in The Castle, related to 1916 Easter Rising. Titles like 'The Surrender' and 'Death Of Constance Markievicz' highlighted the historical significance that still resonates today.
So why settle for an ordinary day when you can party like royalty at Kilkenny Castle?
Conclusion: Why Visit Kilkenny Castle?
Kilkenny Castle is an amazing medieval site! It offers a wonderful glimpse into Ireland's culture. The castle's grand architecture, gorgeous gardens, and historical importance make it a must-visit destination.
Visitors can explore the castle's structure and the engaging exhibitions that show its history. Plus, they can enjoy the stunning views of Kilkenny city from the castle.
If you want to explore Irish culture, Kilkenny Castle is the place for you! This historical landmark will leave you wanting more of Ireland.
It is said that the Butler family owned the castle for almost six centuries.
Frequently Asked Questions
What is Kilkenny Castle?
Kilkenny Castle is a medieval castle located in the city of Kilkenny, in the southeast of Ireland. It was built in the 12th century and has since undergone many renovations and transformations.
What is there to see at Kilkenny Castle?
Visitors to Kilkenny Castle can stroll through the beautiful gardens and parkland, explore the castle's majestic interiors, and learn about the history of the castle and its former residents. There is also a gift shop and a tearoom on the grounds.
How much does it cost to visit Kilkenny Castle?
Admission to Kilkenny Castle varies depending on the time of year and the type of ticket you purchase. Adult tickets start at €8 and discounts are available for children, students, and seniors.
Is Kilkenny Castle accessible for visitors with disabilities?
Kilkenny Castle is partially accessible for visitors with disabilities. The castle has wheelchair ramps, accessible restrooms, and designated parking spaces. However, some areas of the castle and gardens may be difficult to navigate for visitors with limited mobility.
Can I take photos inside Kilkenny Castle?
Visitors are permitted to take non-commercial photographs and videos inside Kilkenny Castle, as long as they do not use flash or tripods. Commercial photography requires prior permission from the castle's management.
Are guided tours available at Kilkenny Castle?
Yes, guided tours of Kilkenny Castle are available for an additional fee. Tours are led by knowledgeable and experienced guides who provide insights into the castle's fascinating history and architecture.