Overview of Prague Castle
Explore the Mysteries of Prague Castle!
Prague Castle, located in the Czech capital, is a breathtaking sight. It's been a source of power for kings and emperors over 12 centuries! It covers a huge area, with attractions like St. Vitus Cathedral, Golden Lane, and the Old Royal Palace.
Don't miss out on this iconic landmark. Experience ancient architecture, culture, art, and heritage! Its origins date back to medieval times. Capture the beauty of Prague Castle – visit soon!
History of Prague Castle
This amazing historical complex situated in the Czech Republic's capital, dates back to the 9th century. Prince Bořivoj of the Premyslid Dynasty built it first as a fortified settlement. Over the course of more than a thousand years, many renovations and additions were made under different rulers.
Originally, wooden buildings with simple fortifications were erected, later replaced by stone walls and Romanesque-style structures. Then King Charles IV added Gothic elements, and Renaissance architectural features were introduced by Emperor Rudolf II. Finally, Empress Maria Theresa made Baroque modifications.
Prague Castle is renowned for its ramparts, guard towers, gates, and the Presidential Palace. It's listed as one of the world's largest ancient castle by Guinness Book of Records with an area of 70,000 square meters. It has seen royal coronations, as well as political upheaval.
Nowadays, it's one of the most visited landmarks in Europe. It serves as a cultural hub, with art, music, and theatre performances from all over the world. Prague Castle remains at the heart of the Czech Republic's captivating capital.
Architectural Wonders of Prague Castle
To explore the architectural wonders of Prague Castle, delve into the St. Vitus Cathedral, Old Royal Palace, and Basilica of St. George. These three sub-sections provide insight into the castle's rich history and architectural beauty.
St. Vitus Cathedral
Table for St. Vitus Cathedral
Style: Gothic
Height: 96 meters
Bell Tower: 100 meters
Age: Over 600 years old
St. Vitus Cathedral holds the Crown Jewels and has been a part of Czech history. It hosted coronations and royal weddings. A visit to St. Vitus Cathedral is something not to be missed when in Prague Castle! Its beauty and history will stay with you forever. If these walls could talk, they'd say 'we've seen some crazy stuff'.
Old Royal Palace
The Prague Castle, a historical residence of Czech rulers and presidents, is an ancient abode excavated beneath the St. Vitus Cathedral. It was built by Duke Břetislav I at the turn of the 11th century, and is known for its Gothic Revivalist style, influenced by Baroque and Rococo art forms.
Notable features include Vyšehrad stone flooring, Vladislav Hall's rib-vaulted ceiling, impressive portals with sculptural decorations, and stained-glass windows. It also has the most comprehensive Renaissance balcony in Europe.
Take a guided tour to discover even more about this awe-inspiring masterpiece. Plus, the Basilica of St. George will leave you speechless with its stunning Romanesque architecture.
Basilica of St. George
The 10th century Romanesque church, located within the Prague Castle complex, is a palatial masterpiece. Its frescoes, from 12th to 14th centuries, are intricate and its interior is awe-inspiring. Exhibits of Czech modern art add to its elegance.
Throughout the centuries, this basilica has served varied purposes. It was a chapel and housed Prague's first Benedictine convent.
For a special experience, visit during festive occasions like Christmas. A music festival takes place then, making your visit unforgettable.
Even if gardens aren't your thing, the Royal Gardens of Prague Castle will leave you feeling like royalty. Their beauty and historic charm are breathtaking.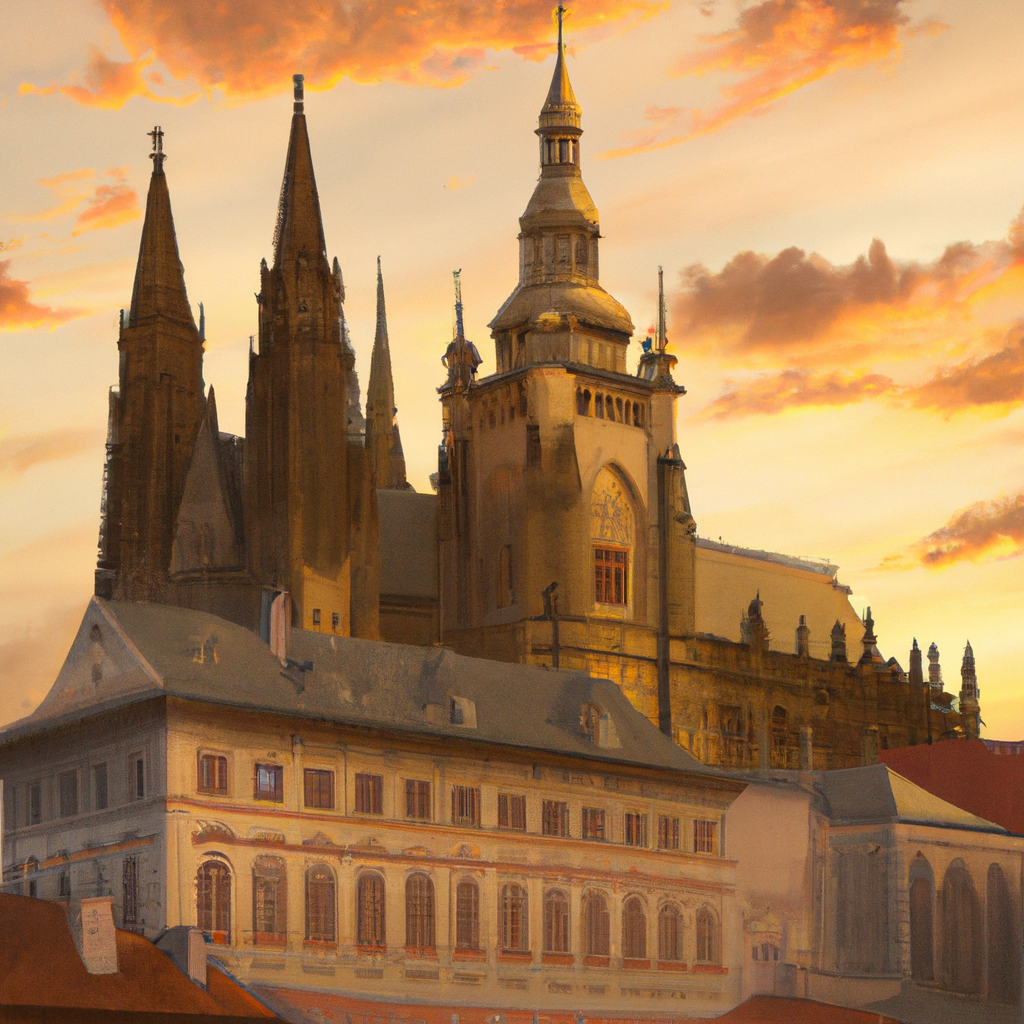 Royal Gardens of Prague Castle
The Royal Gardens of Prague Castle envelop visitors in a soothing atmosphere. This verdant paradise communicates how kings of old used gardens as a cultural refuge from court life.
Divided into three major terraces, each showcases unique plants and views of landmarks, such as St. Vitus Cathedral and the Lesser Quarter. Baroque elements – like fountains and statues – decorate the expansive grounds.
Ferdinand Maximilian Brokoff's 'Giardinetto' combines Renaissance ambiance with flower displays and water features, providing a tranquil spot to admire its beauty.
Petr Vyhnálek writes of Prague Castle's history, "Royal Gardens is a pristine witness to our national architecture."
Travelers seeking peace will find it here. Mona Lisa may even plan a vacation.
Art Collections in Prague Castle
Prague Castle is a renowned European landmark, exhibiting a plethora of art collections. You can discover various exhibitions and galleries, displaying the cultural heritage of Czech Republic, dating back to the Middle Ages.
The following table displays a few of the prominent art collections in Prague Castle:
Art Collections in the Prague Castle
The Czech Crown Jewels
The St. Vitus Treasury Exhibition
The Emperor Rudolf II Collection
The National Gallery Collection in Prague Castle
The Rudolphine Graphic Arts Collection
The Military Museum History Collections and Exhibitions
Besides these, you can also view ancient artifacts and historical items like weapons and armor at the Toy Museum within Prague Castle. And the castle itself? Magnificent! All this makes this iconic landmark an unmissable attraction when in Czech Republic.
So, get ready to discover these art collections yourself! Prague Castle: where the only thing more captivating than the architecture is the array of festivals and events.
Festivals and Events in Prague Castle
To explore the exciting festivals and events in Prague Castle, including the Prague Castle Guards Ceremony, International Music Festival, and Prague Castle Exhibition, continue reading. Each of these sub-sections offers a unique experience and perspective of this enchanting capital, fulfilling your desire for culture, music, art and history altogether.
Prague Castle Guards Ceremony
Amidst Prague Castle's grandeur, an age-old ceremony takes place. It's the Changing of the Guard! This tradition dates back to the 12th century. The guard in their ornamental uniforms and weaponry, does a precise military drill.
The ceremony begins with a fanfare. Then, the new guard arrives at the gates. They exchange duties with the previous guard and march around the castle's courtyards, accompanied by music. This drill lasts for about an hour and is a sight to behold!
The elite force guards the castle entrance and also provides security to the Czech Republic President. Visitors can witness this ceremony at the main entrance every hour, from 7am to 8pm. During winter, timings are restricted.
Attending this ceremony should be on your list of things to do, when visiting Prague. It's a unique cultural experience and offers a glimpse into Czech Republic's illustrious past! Plus, it's the perfect setting for your next Instagram post.
International Music Festival
Come to Prague Castle and take part in a celebration of global music forms! Distinguished artists will be performing their unique strokes for thousands of music enthusiasts from all over the world. Enjoy jazz, classical music and cultural pieces across various venues within the castle.
Take advantage of this special opportunity to be swept away by mesmerizing sounds and explore the depths of emotion. Connect with people from all backgrounds through a shared passion for music. Each year, the International Music Festival draws in new members and serves as a hub for appreciation of musical culture in all its forms.
Experience a memorable display of artistic commitments in one of the finest Castle squares. This is the place to witness some of the most famous musicians perform, an occasion you will never forget.
This year, don't miss out on the International Music Festival. Soak up some culture and let your love of world-class musical treasures flow! Feel like royalty in the Prague Castle Exhibition and enjoy a royal treat.
Prague Castle Exhibition
Glimpse the historic Pantheon, a burial site for Czech greats. Take in views of Prague from atop the Great South Tower. Admire Vladislav Hall with its Gothic, Renaissance and Baroque architecture.
Enjoy live music, events and traditional festivals. Experience the breathtaking beauty of the castle's courtyards and gardens. Get lost in maze-like greenery with stunning views. Don't miss out on this incredible landmark! Book tickets now!
Getting to Prague Castle is simple – unless you're bringing an army of invading gnomes!
How to Reach Prague Castle
Accessing Prague Castle is easy and there are multiple options! Take Metro Line A (Green) and get off at Malostranská station. Cross over to tram 22 and get off at Pražský hrad stop. Alternatively, take number 18 and stop at Pohořelec.
If you don't mind walking, you can explore the beauty of the city on your way to the castle. Start from Charles Bridge or Old Town at Saint Vitus Cathedral.
Taxis are also an option – just make sure to negotiate a fair price before getting in. Or, you may want to join a Segway Tour and experience the whole of Old Town while heading to the castle.
You can enter the castle through several entrances like Hradčanské náměstí or Staré zámecké schody/Staircase of Old Palace. I once took a taxi that dropped me off directly at one of these entrances. It was amazing to see architecture from centuries ago up close. The winding staircases led me through history as I admired classical artworks and ornate furniture.
Watch out for the castle's resident ghosts – they can be pretty possessive of their rooms!
Tips for Visiting Prague Castle
To make the most of your visit to Prague Castle, you need to have a plan. In order to explore the castle effectively with least hassle, this section on Tips for Visiting Prague Castle, with Best Time to Visit, Ticket Prices, Guided Tours, What to Wear and Carry as solution, will come in handy.
Best Time to Visit
To make the most of your visit to Prague Castle, consider when it is busiest. To avoid crowds, come during March, April, September or October. Christmas can be popular, but it is a beautiful time to experience the castle lit up with festive lights.
Early mornings and late afternoons are great for avoiding queues and having more space. Twilight hours can be great for dreamlike photographs without a lot of people. Alicia visited Prague last year and enjoyed her winter trip at 4:00-6:00 pm. She captured stunning nightfall shots.
Visiting Prague Castle might be expensive, but you can pretend to be royalty while you wander around.
Ticket Prices
If you're headed to Prague Castle, here's all the info you need to know about entrance fees.
Standard tickets cost 250 CZK (approx. $11) and include St. Vitus Cathedral, Old Royal Palace, and Golden Lane with Daliborka Tower.
Discounted tickets are available for children (6-16) and seniors (over 65) at 125 CZK (approx. $5.50).
Adults can get a short version ticket at 100 CZK (approx. $4.50) that covers only the castle's perimeter towers and gardens.
For a more in-depth experience, try the Circuit B ticket option at 350 CZK (approx. $15), which includes St. George's Basilica and The Powder Tower.
Book tickets online on Prague Castle's website or at the Information Center near St. Vitus Cathedral to save time. Tickets are valid for two days after purchase.
Peak season (April-September) can result in tickets selling out early or long wait lines.
Remember to bring an ID card if you have a discounted ticket option.
Why not get a personal tour guide for your visit?
Guided Tours
When visiting Prague Castle, booking a guided tour is a great idea! You can choose from private or group tours. They'll tell you the history and importance of the castle, plus you don't have to wait in lines. The tour will show you different sections of the castle, and sometimes take you to exclusive parts. Guides are also ready to answer your questions and give personalised recommendations.
You can also book a themed tour like a ghost tour or medieval tour. These go deeper into the castle's history and make sightseeing more fun! Just remember that some tours may require advanced booking and have limited availability – check with the provider for details.
Did you know that Prague Castle is the world's largest ancient castle complex, according to Guinness World Records? Just so you know, it's not a costume party – leave the fairytale gear at home!
What to Wear and Carry
Planning to visit Prague Castle? Here are some tips to make sure you're well-prepared for an unforgettable experience!
Dress for the weather and terrain. Comfy shoes for cobblestones and a lightweight jacket or umbrella in case of rain.
Take some extra cash as some places only accept cash payments.
Keep your luggage secure and avoid bulky items, such as backpacks and large bags, which are not allowed.
Wear a face mask that covers your mouth and nose. Czech Republic has strict mask mandates.
When visiting churches, ensure your clothing covers your shoulders, legs, and chest.
Take these precautions seriously. Otherwise, there may be an unpleasant encounter with security or denied entry. Don't miss out on this opportunity!
Conclusion: A Must-Visit Destination in Czech Republic's Capital
Prague Castle is a must-see in the Czech Republic's captivating capital. Tourists flock from all over to witness its medieval architecture and witness the city's panoramic views. Exploring it should be on every traveler's itinerary!
Its grandeur cannot be denied. It has been a symbol of Czech culture for over 1000 years, making it a must-visit for history buffs. They can appreciate the majestic Gothic St Vitus Cathedral, explore the Old Royal Palace, or wander through the Royal Gardens. The towers also provide superb panoramas!
Prague Castle's complex is full of surprises. The Golden Lane dates back to the 16th century and offers a peek into the past. The Lobkowicz Palace Museum houses impressive artwork and heirlooms which show noble family life.
Legends say that Czech President Milos Zeman stands under Charles Bridge at midnight to chat with magical water sprites who guard palace treasures in the Vltava River. This isn't true, but uncovering stories like this makes Prague Castle an unforgettable experience.
Frequently Asked Questions
1. What is Prague Castle?
Prague Castle is a historic castle complex located in the city of Prague, Czech Republic. It serves as the official residence of the President of the Czech Republic and has played a significant role in the country's history.
2. How old is Prague Castle?
Prague Castle has a history that dates back over 1,100 years. It was originally built in the 9th century and has undergone numerous renovations and additions over the centuries.
3. What are the highlights of a visit to Prague Castle?
Visitors to Prague Castle can explore many fascinating sites and attractions, including St. Vitus Cathedral, Golden Lane, the Old Royal Palace, and the Lobkowicz Palace. The castle also offers stunning views of the city and the Vltava River.
4. How long does a visit to Prague Castle take?
A visit to Prague Castle can take anywhere from a few hours to an entire day depending on your interests and how much time you want to spend exploring the various sites and attractions.
5. How much does it cost to visit Prague Castle?
The cost of visiting Prague Castle varies depending on what sites and attractions you want to see. Admission prices range from 70 CZK for a basic tour to 350 CZK for a full tour.
6. What is the best way to get to Prague Castle?
Prague Castle can be reached by tram, bus, or on foot. The castle is located in the heart of the city and can be easily accessed from many different parts of Prague.