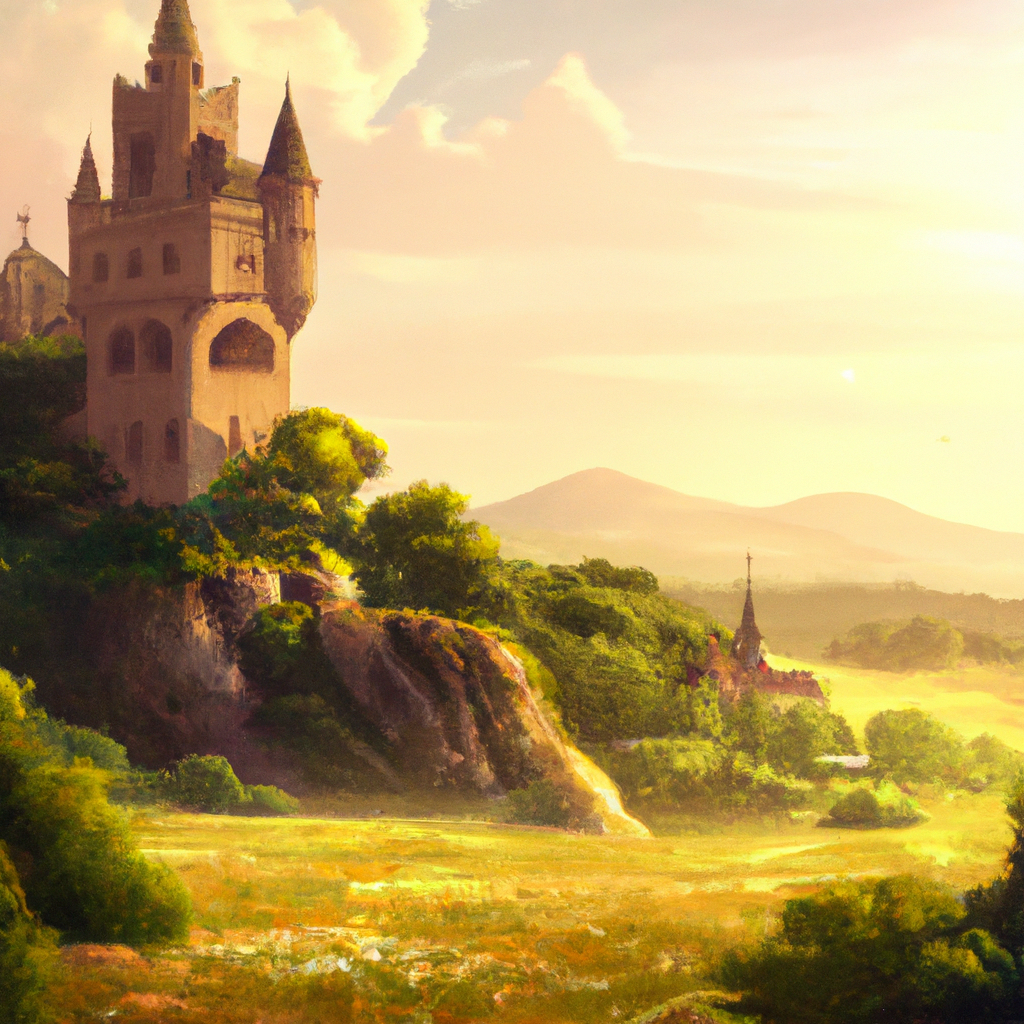 Introduction
Experience a royal side of America with exquisite castles! These iconic structures are home to precious pieces of history and stunning architecture. From the Biltmore Estate in North Carolina to Hearst Castle in California, each castle has its unique stories and designs. Let this guide show you around America's finest castles.
Be an aristocrat for a day and witness the grandeur of the country's most beautiful castles. They each have their own rich histories, craftsmanship, and captivating surroundings. Marvel at their splendour and interior designs that have stood the test of time.
Apart from their amazing architecture, these castles are great tourist spots and give you a peek into significant moments in American history. For instance, pay a visit to The Breakers in Rhode Island or Ashford Castle in Georgia and learn about America's past.
Each castle gives you something special. Be sure to plan ahead to enjoy seasonal events like concerts or art exhibitions held within these grand buildings. Plus, most castles offer tours with knowledgeable guides who can take you through a tour and share interesting facts about the structure.
What are you waiting for? Come explore America's magnificent castles and feel like royalty as you wander around the grand architecture from days gone by. Skip Buckingham Palace and check out the East Coast's own castles, sans the grumpy guards and expensive souvenirs!
East Coast Castles
In this section, we delve into the grandeur of opulent mansions and estates situated along the Eastern seaboard. These East Coast Castles are a testament to the nation's rich history and architectural heritage.
| Castle Name | Location | Architectural Style | Construction Date |
| --- | --- | --- | --- |
| Biltmore Estate | Asheville, North Carolina | Châteauesque | 1895 |
| The Breakers | Newport, Rhode Island | Renaissance Revival | 1895 |
| Vizcaya Museum and Gardens | Miami, Florida | Italian Renaissance | 1916 |
| Oheka Castle | Huntington, New York | Neo-Classical | 1919 |
These estates have distinct features, such as outdoor gardens modeled after European palaces, intricate woodwork and sculptures, and even secret passageways. The Breakers, for example, boasts of 70 rooms and takes up an entire city block.
Don't miss out on the opportunity to explore the grandeur of East Coast Castles. Plan a visit and immerse yourself in the luxury and refinement of these architectural wonders.
Move over Buckingham Palace, the Biltmore Estate is giving you a run for your money.
Biltmore Estate in Asheville, North Carolina
In the heart of Asheville, North Carolina is a majestic structure. It echoes the grandeur of European architecture – Biltmore Estate. George Vanderbilt II built it in 1895. It's America's largest privately-owned home, on 8,000 acres of breathtaking land. Biltmore Estate has exquisite gardens, luxurious rooms and captivating artwork, giving you a glimpse into a long-gone opulent lifestyle.
The estate's interior features stunning antiques and art collections that showcase Vanderbilt's era. The Banquet Hall is nearly seven stories high, with intricate wood carvings of the celestial sky. Plus, views of majestic Blue Ridge Mountains offer enchanting trails for hiking and horseback riding.
At Biltmore Estate, even if you're not interested in its history or beauty, you'll find something unique. You can buy merchandise from local farms and regional wine selections at Antler Village. Plus, entertainment offerings are part of the estate.
Legend has it that sometime after midnight on Christmas Eve in 1922, a young girl vanished while playing hide-and-seek at the estate. Her mystery remains unsolved. People claim her spirit roams the halls of the artwork, looking for a companion to play with – another reason why visiting Biltmore Estate won't leave you disappointed!
If you want a getaway fit for a millionaire, head to Oheka Castle in Long Island.
Oheka Castle in Long Island, New York
In the heart of Long Island sits a magnificent castle, a perfect mix of old elegance and modern features. This 443 acre estate once home to a financier is now a luxury hotel for weddings, private events, and stays. The grand entrance leads to a grand ballroom with 35-foot ceilings. Movies such as Citizen Kane and Great Gatsby have been filmed here. Construction started in 1914 and the first resident moved in in 1919.
Uniquely decorated guestrooms and suites are inspired by styles from centuries past. Guests can also go horse-riding and explore the attractions near the castle such as beaches, museums, and vineyards.
Travel + Leisure magazine's "World's Best Awards" voted Oheka Castle No.1 Resort in New York State. If you're dreaming of a royal castle, head to Boldt Castle in Alexandria Bay and live like a king or queen.
Boldt Castle in Alexandria Bay, New York
Boldt Castle – a majestic architectural wonder – rests on an island in Alexandria Bay, New York. It was commissioned as a token of love for millionaire George C. Boldt's wife, Louise. Now a museum and tourist attraction, visitors can experience the grandeur of its six-story structure with 120 rooms and lush gardens.
Built at the end of the 19th century, construction stopped after Louise's sudden death. In 1977, the Thousand Islands Bridge Authority bought and restored the castle. Heart Island is a prominent feature, with its shoreline forming a heart in Louise's honor.
The castle has a Europen-inspired Chateauesque style, blending Gothic elements of romanticism. Its decorative woodwork and stonework exude elegance and sophistication.
Legend has it that, upon Louise's passing away, Mr. Boldt halted construction mid-way, leading to its abandonment for many years. After WWII, officials from Northern NY State and Governor Thomas E. Dewey's administration, made plans to finance the restoration, spearheaded by philanthropist William Hauber. Experience the beauty of the East Coast – history, charm, and fewer earthquakes!
West Coast Castles
The West Coast of America is known for its awe-inspiring castles that showcase grandeur and opulence. These castles, each with their unique style and architectural design, offer a glimpse into the rich history and culture of America's royalty. From the Hearst Castle, situated on a hilltop in San Simeon, to the Biltmore Estate in Asheville, North Carolina, these castles are a sight to behold.
As you venture further down the coast, you'll also come across the Winchester Mystery House in San Jose, which boasts over 160 rooms and has a fascinating history. Another impressive castle is The Chateau at Oregon Caves, a 1930s French-style castle that offers stunning views of the Pacific Ocean.
If you're visiting the West Coast, make sure to add a castle tour to your itinerary. Explore the lavish interiors, soak in the rich history and charm of these castles, and marvel at the intricate details that make them so unique. Whether you're a history buff or a lover of grand architecture, these castles are a must-visit.
Who needs a fairy godmother when you've got a castle fit for a king, or in this case, media mogul William Randolph Hearst, in sunny Cali?
Hearst Castle in San Simeon, California
Located in San Simeon, California, Hearst Castle is a spectacular American architectural treasure. Tourists from all around the world visit to witness its grandeur and beauty. It's made up of four buildings, having 165 rooms filled with art and antiques from around the world.
William Randolph Hearst was the powerful media mogul behind this mansion. It took him nearly 30 years to finish it. Its most famous structure is the Casa Grande, designed by the one and only female architect of her time – Julia Morgan. Inside, you'll find Greek vases, Roman mosaics, antique furniture and more.
On the estate grounds, you'll discover 123 acres of lavish gardens, and the breathtaking Neptune Pool surrounded by ancient Roman columns.
Not to be outdone, the castle also houses a remarkable collection of art that reflects the influence of William Randolph's work in modern journalism.
Thornewood Castle in Lakewood, Washington
Welcome to Midwest Castles – no need for a moat when you have tornadoes!
Thornewood is nestled in the scenic city of Lakewood, Washington. This mansion was built in England in the 15th century and shipped to the US in pieces. The century-old woodwork and English antiques are worth marveling over.
Accommodations cater to every budget – from the opulent honeymoon suite to cozy B&Bs.
Guests can enjoy paddle-boating at American Lake or explore stunning gardens. Elegant venues are available for weddings and events, bringing old-world luxury and grace.
After exploring, grab a beer at nearby McMenamins cafe.
Midwest Castles
Midwestern Castles – Discovering America's Hidden Gems of Architecture
The Midwest is home to some of the most magnificent castles in the United States. From medieval-style fortresses to French-inspired châteaux, the Midwest boasts an impressive array of architectural wonders. These castles stand tall as a testament to the grandeur and opulence of the past, beckoning visitors to step back in time and experience a bygone era.
These Midwestern castles are more than just architectural marvels. They are steeped in history and are often deeply intertwined with the local culture and community. They have served as homes to wealthy industrialists, religious leaders, and even as movie set locations. Each castle is unique, and their stories are as enchanting as the castles themselves.
If you are an architecture enthusiast or simply looking to experience a unique slice of America, exploring the Midwestern castles should definitely be on your bucket list. One such hidden gem is the Hammond Castle Museum in Gloucester, Massachusetts. This stunning castle was built in the 1920s by inventor John Hays Hammond Jr. and features Gothic-style architecture with intricate details.
Move over, Buckingham Palace – Fonthill Castle is the real deal, complete with stunning architecture and a moat that's sure to make even the Queen envious.
Fonthill Castle in Doylestown, Pennsylvania
Enter Fonthill Castle! Located in Doylestown, Pennsylvania, this historic castle is the brainchild of Henry Chapman Mercer – an archaeologist, art historian and concrete construction enthusiast. Mercer's castle boasts Gothic, Byzantine and Medieval styles, along with beautiful tiled floors, Mercer's personal collection of art, handmade cabinets, ironwork and stained-glass windows.
Not to mention, the castle is distinguished by over 200 decorative tiles Mercer poured into wooden molds. Plus, artifacts from US history adorn the walls, making the castle truly one-of-a-kind.
What's even more amazing is that it is believed the castle was designed without any plans or blueprints – just based on Mercer's imagination.
Fonthill Castle is truly a sight to behold – a beautiful castle representing an important part of American culture. It must be preserved for future generations to come!
Hammond Castle in Gloucester, Massachusetts
Constructed in the 1920s by John Hays Hammond, Jr., the Gloucester-based castle is a one-of-a-kind marvel. Its medieval-style fortification boasts an octagonal tower, secret passageways, and antiques reflecting Hammond's many talents as inventor, collector, and artist.
Inside the walls of Hammond Castle lies a world of fascinating artifacts. That includes the world's largest working pipe organ, built into the architecture. Also, there's the Great Hall, with Renaissance-style pieces from Italy – oil paintings, sculptures, and pedestals galore.
This Midwest castle captures the eye with its unusual, yet creative design. Each detail speaks to Hammond's creative confidence and adds to its enchantment. It's definitely a landmark worth visiting when in Massachusetts.
Fun fact: Hammond Castle has been a set for movies such as Ghostbusters II, and has hosted many weddings and events. Don't let the East Coast fool you – Belcourt Castle in Newport, Rhode Island belongs in the Midwest!
Belcourt Castle in Newport, Rhode Island
Discover Belcourt Castle – a stunning and extravagant castle-like mansion located in Newport, Rhode Island. With its French Renaissance architectural style, this 19th-century residence is a must-visit for art, architecture and history buffs. Tourists from around the world flock to its awe-inspiring interiors and intricate exteriors.
The castle features a grand ballroom for 300 people, an Egyptian room with ancient ornaments, distinctive Gothic-style dining rooms, and more. You can also explore authentic antiques like Napoleon Bonaparte's carriage, a medieval weaponry collection, and countless portraits from European artists.
Tours are available to acquaint tourists with interesting historical details about the castle's owners and occupants over the decades. Dress code policy suggests wearing elegant evening attire or formal dress clothes during evening events. Check online for schedules availability before planning your visit. Move over Cinderella, the South has castles fit for a real-life villain.
South Castles
South Castles of America – Marvels of Architectural Finesse
America boasts of some of the world's finest castles, and the southern region is no exception. These castles, built with intricate details and unique designs, are the perfect embodiment of the region's architectural brilliance.
The South Castles, nestled amidst the lush green landscapes, exhibit a perfect blend of Gothic, Renaissance, and Baroque styles. These castles have stood the test of time and have survived American history's tumultuous times.
The elaborate interiors of the South Castles are adorned with priceless antiques, artworks, and artifacts, reflecting the past lives of the country's elite patricians. The South Castles also retain their immaculately maintained, sprawling exteriors, with gardens that captivate and transcend time.
Pro Tip: Book a guided tour that takes you through the South Castles' historically rich interiors and gardens, allowing you to experience the grandeur and splendor of America's finest castles.
Move over Hogwarts, this Spanish fortress in Florida is the real deal when it comes to magical architecture.
Castillo de San Marcos in St. Augustine, Florida
Castillo de San Marcos, an impressive fortress located in St. Augustine, Florida, has a history dating back to the late 1600s. This architectural marvel boasts its unique four-pointed star design, made from rare coquina stone found only in Anastasia Island.
The thick walls have weathered many battles throughout the centuries. Today, it's a popular museum and attraction. You can explore its many rooms and learn about the lives of soldiers stationed there during different eras. Plus, its exhibits detail the complicated relationships between Spain and other world powers.
Legend has it that Juan Ponce de Leon was hit by an arrow while surveying the site. Many believe this incident was the spark that drove him to search for the Fountain of Youth in Florida.
Castillo de San Marcos is one of Florida's most iconic landmarks. It offers a glimpse into Spanish colonial life and North American military history. Its cultural significance remains captivating even today.
The Governor's Palace in Williamsburg, Virginia
The grand Governor's Palace in Williamsburg, Virginia flaunts a majestic facade of opulence and aristocracy. Its elaborate architecture and beautiful interior display the luxurious lifestyle of the 18th century elite.
Not merely a residence for the governor and his kin, it also served as an official venue for elegant receptions and feasts. Its lush gardens emit an inviting scent to all who pass by and make it a great spot for leisurely strolls.
The palace is home to many rare artifacts from the pre-Revolutionary era, such as furniture, paintings, and ceramics; providing guests with a glimpse into early American history.
Legend has it that Thomas Jefferson once hosted George Washington here during one of his visits. The Governor's Palace still stands tall, a reminder of America's rich legacy.
Conclusion
The Grandeur of American Castles
American castles bring to mind the grandness and magnificence of a former time. These architectural marvels stand as symbols of the nation's affluent past and luxurious lifestyle. Going beyond regular manors, America boasts some of the world's most splendorous castles. From Hearthstone Castle in the Hamptons to Gallier House in New Orleans, these dwellings have their own stories to tell.
These magnificent castles give their visitors a chance to drift into a fairytale and live like a king. Some sites are now open to the public and make great holiday spots. For instance, the Hearst Castle in California has 165 rooms with a view of the Pacific Ocean. It is a popular tourist attraction, and people are taken by its beguiling charm.
Though many of these fortresses keep their legacy alive, some also bear witness to turbulent stories. Take Boldt Castle in New York, for example. It stands as a reminder of an unrealized love. It was constructed by millionaire and hotel magnate George C. Boldt for his partner, yet she died before it could be completed, shattering their dream together.
These imperial palaces remain beloved by locals and tourists alike for their marvelous beauty and engrossing tales hidden within their walls.
Frequently Asked Questions
1. What makes a castle a castle?
A castle is a fortified dwelling that was typically built during the Middle Ages, between the 9th and 15th centuries. It is characterized by thick walls, towers, and turrets that were designed to protect its inhabitants from attack.
2. What are some famous castles in the United States?
Some of the most famous castles in the United States include Biltmore Estate in North Carolina, Hearst Castle in California, and Boldt Castle in New York.
3. Are castles still used as homes today?
While many castles in the United States have been converted into museums or tourist attractions, some are still used as homes today. However, they are typically owned by wealthy individuals or families and are not open to the public.
4. What is the most expensive castle in the United States?
The most expensive castle in the United States is believed to be the Hearst Castle in California, which is valued at over $190 million.
5. Can you stay overnight in a castle in the United States?
Yes, many castles in the United States offer overnight accommodations for guests. However, these accommodations can be quite expensive, and reservations may need to be made well in advance.
6. What is the history behind America's castles?
The history behind America's castles varies depending on the specific castle. Some were built by wealthy industrialists or families as private residences, while others were constructed for military purposes or as resorts. Many of these castles were built in the late 19th and early 20th centuries during an era of prosperity in the United States.