Top 10 Castle-Inspired Films and TV Shows You Need to Watch
Castle-inspired cinematic and television entertainment is a genre that magnificently transports the viewers to a medieval world of grandeur, extravagance and chivalry. Here are some noteworthy examples of such movies and TV shows that truly capture the essence of that era:
Outlander involves time-traveling, a love story, and warfare set in the backdrop of lush castles, ramparts and countryside filmed on location in Scotland.
Game of Thrones, HBO's critically acclaimed series, is another fantastic example of contemporary fantasy fiction that blends amazing visual effects, great acting and intricate storytelling.
Disney's animated classic, Beauty and the Beast, is a captivating musical that boasts an intricately-created, French-style chateau that serves as the setting for enchantment and romance.
El Cid, Netflix's Spanish historical drama, recounts the life of the 11th century warrior and his role in reconquering Spain from the Moors.
These and other cinematic and television productions, all unique in their execution, serve to immerse audiences in the world of knights, dragons, lords, ladies and castles. For those who want to get lost in the world of medieval history, these films and TV shows are definitely worth a watch.
Additionally, it may be beneficial for viewers interested in castle-influenced entertainment to research the architectural design style of different castles. Gaining a better understanding of the physical structures that inspired these productions can enable audiences to appreciate them all the more.
Watching 'The Crown' is like playing a game of thrones, but with more tea and less bloodshed.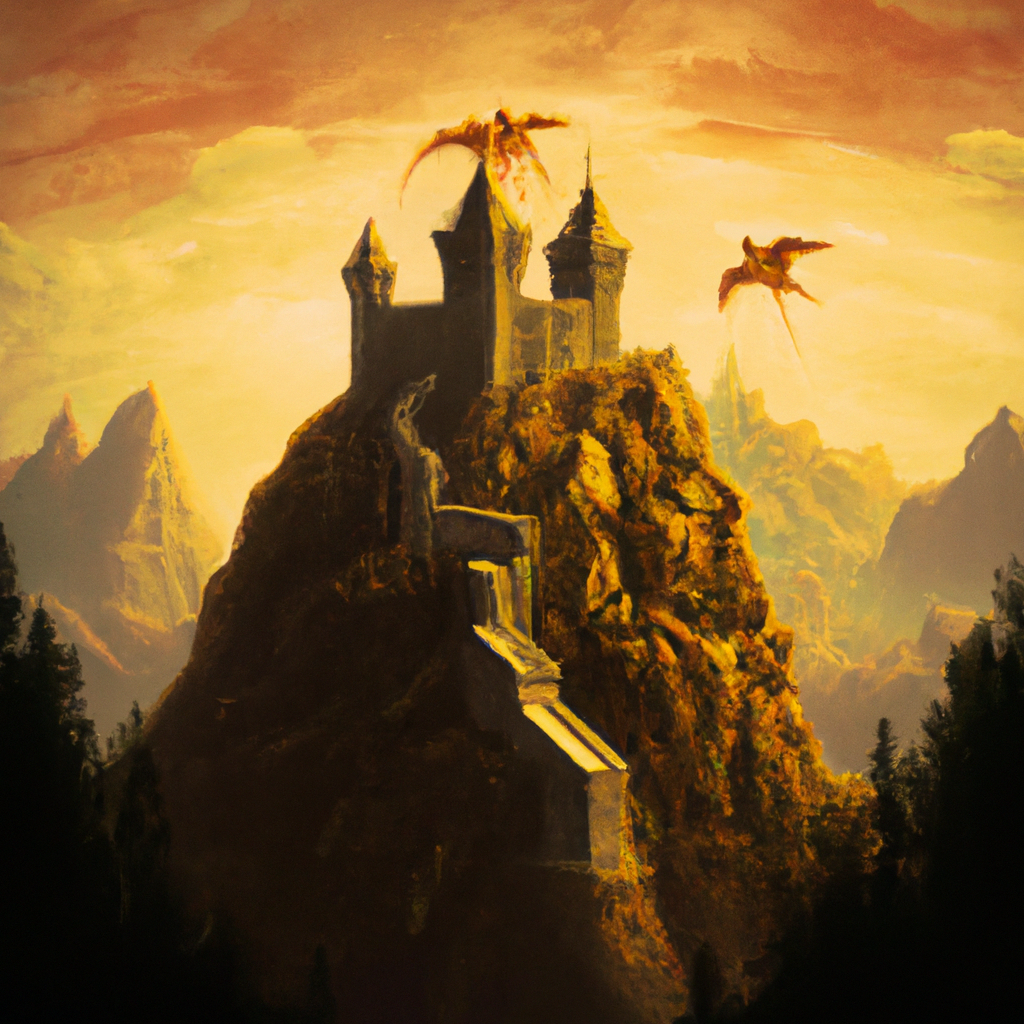 The Crown
The Crown is a popular TV show that follows Queen Elizabeth II's journey to power. It highlights the political and personal struggles she went through, and how she managed them with grace. It stars an all-star cast and is praised for its accuracy.
This show is great for those who want to know about monarchical societies. It has drama, history, and politics all in one. It can even draw in viewers who don't usually watch period dramas. Its gripping storylines, complex characters, and amazing visuals make it accessible to everyone.
Pro Tip: If you want to learn about British history and politics in an entertaining way, The Crown is for you!
Game of Thrones
Game of Thrones is an iconic show, spinning a tale of ambition, greed, and vengeance between several noble families. It blends politics, magic, and violence together to create an incredible fantasy world. Its setting draws inspiration from the War of the Roses and Henry VIII.
Westeros is the backdrop: a continent of Seven Kingdoms ruled by different Houses, each with their own aims and loyalties. The Night's Watch is an ancient order that protects the realm from evil beyond an ice wall. They discover a sinister danger.
The show is renowned for its multi-dimensional, morally complex characters, making difficult decisions with huge consequences. Peter Dinklage's performance as Tyrion Lannister earned the show worldwide acclaim.
Over eight amazing seasons (2011-19), Game of Thrones has become one of the greatest TV series ever. For those fascinated by historical dramas or epic fantasy, it's a must-watch.
Take a dive into this beguiling world of kings, queens, and love that could mean treason or death! Game of Thrones is the ultimate castle-inspired drama.
Camelot
This piece discusses a legendary kingdom in British mythology, known for its iconic king and his knights of the round table. It has been adapted many times, one famous one being a TV series from 2011-2012. It featured Joseph Fiennes as Merlin and Jamie Campbell Bower as King Arthur. It showcased the rise of the King and themes of love, trust, and loyalty.
Legend has it, Camelot may not have been imaginary. Archaeological findings point to Cadbury Castle in Somerset. Historians think it could have been King Arthur's Camelot before it was ruined. Glastonbury Tor adds to this theory, giving hope there may be truth behind this beloved mythology.
Even Merlin can't make castles fly!
Merlin
Young Merlin is sent to live with a court physician in Camelot. There, he discovers his magical abilities and becomes an advisor to King Arthur. He must keep magic a secret and battle enemies like Morgana.
This TV series has it all – the medieval times, the Arthurian legend, love, war, family dynamics, and magic! It's full of twists, turns, and production value that make it mesmerizing.
Colin Morgan (Merlin), Bradley James (King Arthur), Katie McGrath (Morgana) and Angel Coulby (Guinevere) bring humour, emotion and depth to every episode.
One story tells how Katie McGrath was cast as Morgana after auditioning with no acting experience. Director James Hawes noticed her potential from modelling work and took a chance. Critics even cited her performance as the best of the series!
If you're a fan of medieval fantasy drama, then Merlin is a must-watch! Who needs dragons when you have the real monster of Downton Abbey – the Dowager Countess?
Downton Abbey
This period drama is an absolute masterpiece! Set in the early 20th century, it follows the Crawley family and their domestic servants at a grand country estate in Yorkshire. WWI and other societal upheavals bring changes to their lives, which viewers experience through romance, betrayal, ambition, and tragedy.
The impeccable manners, luxurious fashion, and picturesque landscapes transport viewers to the past. We get to see different social strata, as well as their struggles and triumphs.
Downton Abbey stands out due to its mix of fictional characters and real-life events, such as the Titanic sinking and Spanish Influenza epidemic. This creates an authentic experience!
There was even a blunder during production's checkered history – a water bottle under a chair caught on camera. But fans noticed it before it aired and it didn't ruin the show. Downton Abbey remains one of England's greatest cinematic achievements!
Reign
Reign – a historical drama set in 16th century France. It follows the young Mary, Queen of Scots, as she rises to power amidst political and personal challenges. Intricate plot twists, engaging characters, palace intrigue, romance and betrayal – what more could you ask for in a period drama?
The series also boasts stunning costumes and sets that accurately depict the grandeur of the Renaissance era. Real-life events are interwoven with fictional storylines for an all-encompassing show. The exquisite cinematography transports you to a distant world of political plotting.
If you're looking for a royal drama with a rich history, Reign is a must-watch. Stream it on Netflix for four seasons of Mary's struggle between love for her country and her desire for survival. Keep an eye out for hidden details that reveal the intentions of characters as they scheme for power. Or, if you're in the mood for a show where heads are constantly on the line, check out The Tudors.
The Tudors
The historical drama series 'The Tudors' has captured audiences with its lavish costumes and intricate plot. Set in the 16th century, it follows the rule of King Henry VIII and explores various characters and events. It mixes fact and fiction to create an enthralling story.
Actors Jonathan Rhys Meyers and Natalie Dormer also gave strong performances, which won the show some awards. The attention to detail to recreate the era's fashion and architecture was also impressive. Locations like Hampton Court Palace and Dover Castle gave viewers a glimpse of extraordinary places.
Fun Fact: 1000 items were custom-made to give authenticity to each costume worn by the characters. Source: Rolling Stone Magazine.
Versailles: Opulence and excess collide, making it perfect for a historical drama or a Kardashian vacation.
Versailles
The TV series 'Versailles' captures the grandeur of the French royal palace and its reign. Immerse yourself in the show's alluring aspects: politics, romance and luxury. The talented cast and splendid costume design bring the story to life.
King Louis XIV strives for power and glory. He battles enemies both near and far. His personal life is turbulent with love triangles, betrayals and scandals. The opulent interiors of Versailles are portrayed with careful detail.
'Versailles' offers more than its captivating plot and aesthetics. It gives insight into historical events that formed France in the 17th century. It shows the dynamics between the king's ministers, artists and mistresses.
Pro Tip: Any history buff or art lover must visit the Palace of Versailles in France to truly appreciate Versailles' historical significance beyond the screen. Robin Hood stealing from the rich and giving to the poor has never looked so good on the big screen.
Robin Hood
The epic tale of the daring archer, Robin Hood, has been a favorite of movie-goers and TV-watchers since time immemorial. Errol Flynn brought his signature swashbuckling style to the role, while Ridley Scott opted for a more realistic portrayal.
Set in Medieval England, Robin Hood leads his noble gang of outlaws in a fight against tyranny. They rob the wealthy to give to the poor, and challenge the oppressive government.
Through its many adaptations, this classic story conveys timeless values of courage, kindness, and standing up for the oppressed.
However, if you're looking for historical accuracy in Monty Python and the Holy Grail, you might want to adjust your expectations!
Monty Python and the Holy Grail
Monty Python and the Holy Grail – a 1975 British comedy classic – parodies the Arthurian legend. It follows King Arthur and his knights on their quest for the Holy Grail. This film stands out for its absurdity and satire of medieval times. It's an absolute must-watch for those who love castle-inspired films!
If you're into castle-inspired productions, Game of Thrones is a must-see. It features iconic locations like Winterfell, King's Landing, and Dragonstone. The intricate settings add to its appeal. Castle enthusiasts will love it!
Another great option is Netflix's The Crown. It's a historical fiction series about Queen Elizabeth II's reign, from 1952 to present day. Many British landmarks are featured, like Buckingham Palace and Balmoral Castle. The show captures pieces of history through artful imagery.
If you want to explore castles, these three suggestions will definitely entertain and satisfy your passion for architecture and history. Don't miss out on the grandeur!
Frequently Asked Questions
Q: What is the top 10 castle-inspired films and TV shows?
A: The top 10 castle-inspired films and TV shows you need to watch are: The Lord of the Rings trilogy, Game of Thrones, Harry Potter and the Philosopher's Stone, The Princess Bride, The Chronicles of Narnia: The Lion, the Witch and the Wardrobe, Downton Abbey, Monty Python and the Holy Grail, Cinderella (2015), The Crown and Outlander.
Q: What makes these castle-inspired films and TV shows so appealing?
A: These films and TV shows are appealing because they transport you to a world of fantasy, adventure, and romance that is set in majestic and breathtaking castles. They are also visually stunning, with intricate details and designs that capture the imagination.
Q: Are these castle-inspired films and TV shows suitable for all ages?
A: Most of these films and TV shows are suitable for a general audience, but certain scenes or themes may not be suitable for younger viewers. It's always best to check the age rating and parental guidance before watching them with children.
Q: Are these castle-inspired films and TV shows based on real castles?
A: Some of these castle-inspired films and TV shows are based on real castles, while others are fictional creations. For example, Game of Thrones is filmed in various locations throughout Europe, including actual castles like Castle Ward in Northern Ireland and the Alcázar of Seville in Spain.
Q: Can I watch these castle-inspired films and TV shows online?
A: Yes, most of these films and TV shows are available to stream online on platforms like Netflix, Amazon Prime Video, and Hulu. Some may also be available for rent or purchase on iTunes or Google Play.
Q: Are there any other castle-inspired films or TV shows that are worth watching?
A: Yes, there are many other castle-inspired films and TV shows that are worth watching, including Reign, Camelot, Merlin, Once Upon a Time, The Last Kingdom, and Penny Dreadful.